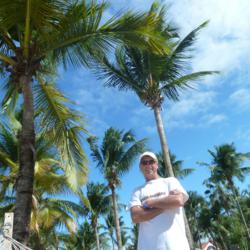 I just love this song. I can't stop singing it!
(PRWEB) January 31, 2013
Beach Maniac, released today, is the perfect song for people who spend the cold winter months longing for that idyllic tropical beach vacation.
"This is one of the best beach tunes I have ever heard!"
"It makes me want to go to the beach right now!"
"This song speaks to me because I am a Beach Maniac!"
These are just a few of the responses to Beach Maniac, a tropical lifestyle song born from the traditions of Jimmy Buffett, Zac Brown Band, Kenny Chesney, John Frinzi, Howard Livngston and many others who just love, as the song itself says, "Soaking up the Sand and the Sun." This song will make you want to drop what you're doing, hop on a plane and head to your favorite tropical beach setting, drink in hand.
Beach Maniac is sung from the perspective of a dreamer who comes to a revelation while "Shoveling Snow in the Cold Northern Blow" that his life is "Cloudy and Trite." Seeing a jet flying overhead, he visualizes himself "Grabbing a Ride in the Sky" and landing in "Paradise Space." Then, he becomes a:
"Beach Maniac, insaniac!
Soakin' up the sand and the sun
Beach Maniac, no-brainiac!
Worries disappear with the rum"
This lively song is the first release by the Beach Maniacs, a band that spends most of its time lounging on the beach in "A Life Filled with Naps." Why? Because, as they sing, "My Heart is at Ease With This Tropical Breeze; I'm Homeless But Living in Bliss."
Beach Maniac is written by Bill and Ryan Hurley, a father-son team from the north who wrote most of it on an airplane while flying to Fort Myers Beach for a well-deserved vacation.
Beach Maniac is available for purchase for 99 cents on iTunes, Amazon.com, CD Baby and other popular music sites.
For more information about Beach Maniac, visit:
YouTube.com/user/BeachManiacVideo
Beachmaniac.com
Facebook.com/beachmaniacs
Twitter.com/beach_maniac
Or email bill (at) beachmaniac (dot) com