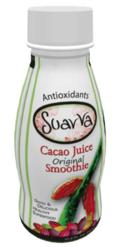 ..now we have the opportunity for consumers in the west to benefit from...the healthy properties of ...Suavva
Weston, Florida (PRWEB) January 31, 2013
Agro Innova Co has established an office in California to further promote Suavva, the first shelf-stable juice smoothie made from the pulp of cacao, recognized worldwide as one of the richest sources of antioxidants and other healthy natural compounds. These amazing cacao compounds, which in the past were consumed only in the form of chocolate, now are available in this healthy, naturally sweet juice smoothie.
H. Skip Harry has been appointed the company´s new Vice President of Sales for the Western U.S. "Commonly known for its seeds or beans which are the source of chocolate, the cacao fruit also has an amazing rich white pulp that surrounds those seeds," said Harry when introducing Suavva at Seaside Market in Cardiff-By-The-Sea, California, "and now we have the opportunity for consumers in the west to benefit from the healthy properties of that white citrus-like pulp in Suavva cacao juice smoothies."
All Suavva products are rich in antioxidants and join the family of super fruits, such as açaí, cranberries, and pomegranates. However, what sets Suavva apart is that since cacao juice is naturally sweeter than all these other juices, Suavva is lower in calories, and contains specific healthy organic compounds including theobromine and phenylethylamine which are believed combine to provide the familiar "good mood" boost noted by chocolate and Suavva lovers.
It was the inspiration of Agro Innova's President Joseph Montgomery to find additional uses for the cacao fruit. His team's ingenuity led to the creation of Suavva. "My family has been planting cacao for chocolate for generations", said Montgomery, "but only over the course of past few years have we been able to develop a patented process to extract enough pulp to produce juice, and in doing so have created a new market and source of income for thousands of small farmers in cacao-producing countries throughout the world."
Suavva Smoothies come in four flavors, (Original Cacao Juice, Orange Cacao Juice, Mango Cacao Juice, and Chocolate Cacao Juice) and are now available throughout the region from a growing number of distributors, through the website http://www.Suavva.com, and in specialty retail stores.