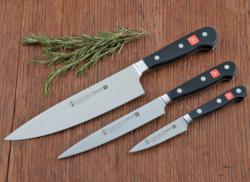 The thin blade and finely honed tip make for a versatile, yet precise tool suitable for a diverse range of kitchen tasks
Colorado Springs, CO (PRWEB) January 31, 2013
CHEFS® Catalog, a leading catalog and online retailer of kitchen products, has announced their exclusive partnership to offer the Wüsthof® Le Cordon Bleu Cutlery in the U.S. With a commitment to quality and value, CHEFS chose to offer the Wüsthof Le Cordon Bleu line because of the cutlery's unique features that set them apart from other kitchen knives.
The Le Cordon Bleu (LCB) kitchen knives combine the professional expertise of Le Cordon Bleu, one of the world's leading cooking academies, and Wüsthof, a leading manufacturer of professional quality kitchen cutlery. These forged knives are perfectly balanced for effortless cutting and reduced hand fatigue, while being 30% lighter than the other forged Wüsthof collections.
"The thin blade and finely honed tip make for a versatile, yet precise tool suitable for a diverse range of kitchen tasks," compliments Chef Yann Barraud, Le Cordon Bleu London.
Additionally, the specially designed bolster creates a cutting surface across the entire blade length, and makes the knives much easier to sharpen.
"The [chef's] knife is very light; the blade is fine and has a practical shape that allows precise cuts for juliennes, brunoises, etc. Without a question, it is a knife much easier to sharpen," adds Chef Phillippe Moulin, Le Cordon Bleu Mexico
CHEFScatalog.com will be offering special discounts on the new Wusthof LCB knives for a limited time, 02/01/2013 thru 02/17/2013.
CHEFS® was founded in 1979 and is based in Colorado Springs, Colorado. At CHEFS® we share a passion for cooking and understand the discriminating tastes and culinary needs of the home cook. CHEFS® Catalog is a leading retailer of top rated cookware, bakeware, cutlery, kitchen tools and cooking utensils. They offer the highest quality and the best brands for your kitchen: All-Clad, Cuisinart, Le Creuset, KitchenAid, Scanpan, Wusthof and many more that inspire home chefs to create delicious and new recipes. Your satisfaction is 100% guaranteed at CHEFS®. Visit CHEFScatalog.com – The Best Kitchen Starts Here.