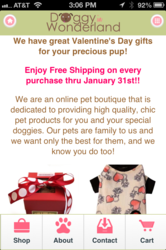 Our customers are our first priority so we want them to have a wonderful shopping experience with us.
Houston, TX (PRWEB) January 31, 2013
Doggy In Wonderland has added a feature to their website to make shopping on smart phones and tablets easy. The site is now mobile meaning when you go to their site on your mobile phone, it appears in a format that makes shopping easier. No more swiping the page to make it bigger so that you can see better. Shoppers also have the opportunity to bookmark the site so it will be easy to return for future shopping.
"We are very excited about our latest development. Our customers are our first priority so we want them to have a wonderful shopping experience with us. We think this will help those busy, 'on the go' customers a great deal," a managing partner expressed. "I believe mobile shopping is going to continue to grow so we need to make shopping as easy and stress-free as possible for our customers."
In addition to "going mobile", Doggy In Wonderland has also recently added a few Susan Lanci Designs dog harnesses to their stock. These harnesses are high quality and made with a soft, comfortable ultrasuede fabric which is washable, breathable and color-fast. They also come with Swarovki crystals. They are made in the USA, too.
Doggy In Wonderland is also in the middle of a contest drawing. Anyone who signs up for their newsletter will receive a discount coupon code plus they will be entered in a drawing to be held on February 1, 2013 for a Chewy Vuiton Dog Bed.
About Doggy In Wonderland
DoggyinWonderland.com is a leading online pet boutique offering a wide array of accessories, clothing and products for dogs and cats. This includes a full line-up of chic dog products such as stylish dog clothing, collars and leashes, pet furniture and dog beds, eco-friendly pet gear, healthy dog treats, dog toys, pet carriers, and a growing collection of cat products as well. The goal is not only happy and healthy pets, but also 100% customer satisfaction. Call 866.280.1818 for more information, and see the full product range at DoggyinWonderland.com.