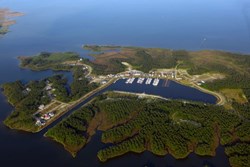 Best Coastal Community of the Year - River Dunes
New Bern, North Carolina (PRWEB) January 30, 2013
Real Estate Scorecard, an industry leader in online real estate reviews, announces its 2013 Bliss Award for Best Coastal Community of the Year - River Dunes.
Boat captains, property owners and charities can't say enough about this compassionate high quality North Carolina marina community in the sailing capital of North America, where boats outnumber people three to one. River Dunes is located due west of the Outer Banks, on the southern end of Pamilco Sound. Boaters can quickly access the Atlantic Ocean between Ocracoke Island and Portsmouth Island. River Dunes is a bona fide marina community complimented by a New England flare. Amenities include a protected harbor with community boat docks, an 11,500 square foot clubhouse overlooking the marina, resort-style swimming pool with cabanas, fireside hot tubs, fitness center and pool bar. They've created a charming waterside village you'd expect to find on Martha's Vineyard. Each time Real Estate Scorecard visits River Dunes, the team wants to ditch their car and grab a bike to ride around the waterfront neighborhoods.
River Dunes received numerous awards from boating magazines and boating related resources. In 2011, Active Captain which tracks over 30,000 marinas, ranked River Dunes as #3 in the world based on the website's reviews. Property owners love their neighborhood. The most common comment on Real Estate Scorecard's property owner scorecards is "River Dunes has the nicest people." This intimate North Carolina coastal community flexes big muscles, when it comes to property owner satisfaction.
Real Estate Scorecard is also impressed with how River Dunes engages with the local community. These folks take an active role in Bike MS and the Leukemia Cup. When Hurricane Sandy hit last year, River Dunes quickly opened up their private marina to the public, providing safe harbor during the storm. River Dunes is a newer North Carolina coastal community, great for folks who want to build and customize their dream home.
To see all of Real Estate Scorecard's 2013 Bliss Award winners, visit
http://realestatescorecard.com/breaking-community-news/best-community-of-the-year-2013-bliss-awards
About Real Estate Scorecard
Real Estate Scorecard writes unbiased real estate reviews providing in depth information about the best master planned communities in Florida, Georgia, North Carolina, South Carolina and Tennessee, all in an effort to help people discover where to retire. Website address: http://realestatescorecard.com