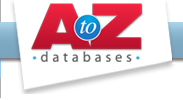 As we continue to grow our business and improve our product, we look forward to introducing our application to more patrons across the country.

Rakesh Gupta, President of AtoZdatabases
Omaha, NE (PRWEB) January 31, 2013
Library patrons in Winter Haven, FL, have just declared that they prefer AtoZdatabases, the leading provider of reference & marketing databases and job searches for public libraries, academic institutions, and government agencies, over its competitors.
AtoZdatabases has been revolutionizing the reference and database marketing industry for nearly two years, offering 30 million business records, 215 million consumer records, and millions of other specialty records for up to 30% less than many of its competitors, all within a user-friendly application.
Library patrons in Winter Haven, FL have taken notice, and one in particular was disappointed that his library did not subscribe to AtoZdatabases. After using it at Winter Haven Public Library, he wanted to switch libraries, because he said that AtoZ was easier to use than its main competitor and had more, better features as well. Since he was out of the library's territory, the library made a special exception to transfer his membership so that he could use AtoZ.
Some of the features that set AtoZ apart include 100 million cell phone numbers, 11 million executive email addresses, 2.4 million job listings, and 1.1 million healthcare professionals. Users can also download up to 1,000 records per search, both on-site and remotely, pay one price to use all current and future searches and data sets, and utilize the user-friendly interface and intuitive search.
"We are excited to hear that our users have gone out of their way to access AtoZdatabases. As we continue to grow our business and improve our product, we look forward to introducing our application to more patrons across the country," says Rakesh Gupta, President of AtoZdatabases.
For a FREE 30-Day trial of AtoZdatabases, please call toll-free at 877-428-0101 or email Sales@AtoZdatabases.com.
About AtoZdatabases:
AtoZdatabases, powered by DatabaseUSA.com, is a top provider of job searches, reference, and marketing databases for public libraries, academic institutions, and government agencies across the United States.