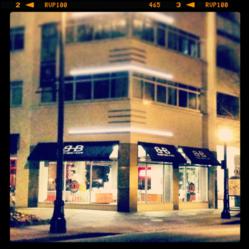 "These 6 key cities are just the first of many to be announced as we embark on a major national expansion." Founder/Creative Director Bobby Berk says
New York, NY (PRWEB) January 31, 2013
Most known for their cool design aesthetic, Bobby Berk Home sells the hippest furniture, bedding, and home accessories in the market today. Bobby Berk Home has been named one of Time Out New York's "Top 10 Home Stores", New York Magazine's top pick for Bedding, and Home Accents Today named Bobby Berk Home with their "2012 Top US Rising Star".
Bobby Berk's rise to bonafide "IT" status in the home design world has more in common with being a rock star than it does a contemporary designer. Originally hailing from Texas, Bobby had big dreams of the big city and moved to New York in 2003 with only a few dollars to his name and no job in sight. After working his way up in retail at Bed Bath & Beyond and Restoration Hardware to Creative Director at Portico Home + Spa, Berk decided that it was time he started his own brand. Since in 2006, Bobby Berk Home has consistently provided customers a unique approach to modern design aesthetics. Epitomizing hip, minimalist urban luxury, Berk's designs reflect a stylish and youthful spirit that perfectly fits any cool, relaxed lifestyle. His past season's were inspired by mid-century modernism, taking ideas from the colors and shapes of the 50s, 60s, and 70s. At the age of only 30, Berk's brand is beginning to gain national attention, and is on track to quickly become a household name.
Though Berk has already conquered New York, Atlanta and Miami, he now has his sights on national expansion. With staggered opening dates over the next 36 months, Berk will open 6 new locations in Los Angeles, San Francisco, Palm Springs, Chicago, Portland and Austin. If that wasn't enough, he is also scouting international locations to expand the brand, with stores in Panama City, Monterrey Mexico and Singapore. With growing popularity, Bobby Berk Home is attracting the attention of socialites, celebrities, Television Networks and anyone else with impeccable taste, as he continues to offer affordable luxury without sacrificing quality or style. "These 6 key cities are just the first of many to be announced as we embark on a major national expansion." Founder/Creative Director Bobby Berk says; "We're very excited to build on the brands continued success and promise to continue to bring quality modern furniture at accessible prices to these amazing communities. The new executive team I have assembled for this expansion includes pioneers in the industry who have helped launch brands such as Restoration Hardware, William Sonoma, Design Within Reach and more."
Bobby Berk's stores will continue to influence the modern furniture and lifestyle industry across America as they have already done in New York, Miami, and Atlanta.
For Press inquiries or for more information about Bobby Berk Home, please contact Braden Richter at Braden(at)bobbyberkhome(dot)com.
For career opportunities visit http://www.bobbyberkhome.com/content/28/employment-opportunities or email hr(at)bobbyberkhome(dot)com.