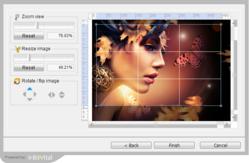 Using BitVital's cloud-based Widgets and RESTful URLs anyone can easily manage and transform images at any scale.
Dallas, Texas (PRWEB) January 31, 2013
Delivered as a cloud-based SaaS (Software As A Service) solution –BitVital widgets can be used to easily upload, store, manage, and manipulate any number of images in multiple combinations using RESTful (REpresentational State Transfer) URLs.
Using this method – only one source image is ever used for image transformations, and image outputs can be completely controlled and customized using the built-in configuration tools. Rather than spending countless hours developing the custom code to do this, it takes only a few minutes to configure a widget.
By utilizing the cloud to store and serve images, businesses gain a number of advantages – such as lowering bandwidth and storage costs, speeding up website / application performance, and adding immense scalability to handle even the fastest possible growth.
Using RESTful URLs to transform images also offers a number of advantages, since dozens of photo effects can be used, reused, and combined in any number of ways. Yet all these multiple versions will use only one image file as its source – whether you resize, crop, rotate, or flip one image multiple times – and then add borders, reflections, rounded corners, and color adjustments to the same image.
The widgets, single image uploader, multi image uploader and profile image uploader, are also completely language independent – so they work on any platform – and only need a few lines of HTML and JavaScript added in order to get them working. Detailed instructions for doing this are available on the website, including how to configure the widget for your precise needs.
To view and explore this handy tool – please visit http://www.bitvital.com/ – we even provide a live demo of the widget on the website to let you try out uploading and manipulating images yourself.