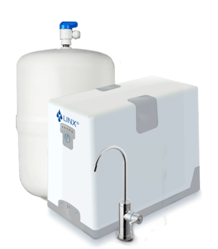 When my client said he was concerned about his RO System water waste, he asked me for a water saving solution for their water units' RO system. I started searching for a water saving solution and found LINX technology.
San Carlos, CA (PRWEB) January 31, 2013
Pionetics Corporation announces a new partnership that will transform the mornings of thousands of San Diegans by signing a new Pionetics Dealer, Terry Yarwick, President of Fresh Cup Coffee & Water Systems in El Cajon, CA. Fresh Cup Coffee is a vending, coffee & water service company that has been in business for 22 years. They specialize in installations and services of coffee equipment and water filtration systems in offices, hotels, hospitals, restaurants, and other businesses in Southern California.
Yarwick was actually asked by one of his clients to find a drinking water system that delivered RO quality water for his eight coffee units without all of the water waste that ROs are known for. "When my client said he was concerned about his RO System water waste, he asked me for a water saving solution. I started searching for a water saving solution and discovered LINX technology from an article in Water Conditioning and Purification magazine." Yarwick ordered and installed the LINX systems for his client. "The systems were easy to install and worked flawlessly; delivering healthy, great tasting water with a fraction of the water waste of a standard RO filter system," said Yarwick.
Yarwick continues, "Great-tasting coffee is dependent upon its water. You simply cannot have great coffee from San Diego's tap water. The LINX system is better than RO because it allows me to set the mineral content higher which is ideal for coffee brewing, and my clients can enjoy quality filtered water without contributing to our state's water shortage." Yarwick was so impressed by the LINX systems' features, cost-effectiveness, and water savings that he signed on to be a Dealer of LINX Drinking Water Systems.
"We're thrilled to be building partnerships with individuals and businesses who understand the importance of water conservation," comments H. Martin Jessen, Vice President of Pionetics Corporation. "Very few RO system owners realize that if just one (1) gallon of water is used a day with an RO, up to 10,000 gallons of water could be wasted in just one (1) year, depending on water feed water pressure, temperature, and quality. In a commercial setting, the waste can be astronomical." In sharp contrast, a LINX drinking water system uses up to 66 times less water than RO, depending on feedwater conditions - or roughly only 110 gallons of water a year to produce the same 1 gallon per day of drinking water.
As a new Dealer, Yarwick admits that the water savings benefit was the reason he installed his first LINX system, but he has come to appreciate all of the other helpful features, such as the:

"Smart" software and display lights that communicate detailed system status to the consumer. This gives his clients greater control over the maintenance of their water systems and better communications with the supplier.
Dial-A-Taste® Control that allows his clients the ability to adjust the mineral content and taste of the drinking water, and therefore the best coffee brewed as well.
Field Service Assistant component which enables the technician to reprogram the LINX unit based on feedwater quality, further optimizing water recovery rates, customizing the system's performance, and maximizing effectiveness and efficiency.
Simplicity of installation and servicing of the equipment.
Providing a system that promotes water savings, and helps clients do their part to conserve natural resources and protect the environment.
Yarwick says that while LINX systems may be slightly more expensive than RO, customers understand the value and see the savings from less water waste – in addition to doing the right thing. Yarwick explains, "Many offices are looking to be as environmentally responsible as possible and SAVING WATER in coffee making is one more way for them to do so."
LINX Drinking Water Systems are currently available through Authorized Dealers in an under-the-sink model or as a bottleless water cooler, but many other manufacturing and service businesses are also finding ways to integrate the LINX technology into their own product designs.
LINX technology uses an ion exchange process, but uses electricity for regeneration rather than chemicals. LINX systems are controlled by programmable software that allows consumers to adjust the system to produce the water taste they prefer all while conserving water. To learn more about this technology, visit the company website at http://www.LINXWater.com.
Pionetics is currently signing new distributors. Anyone interested in becoming a distributor anywhere around the world - should contact H. Martin Jessen at 480-836-0887. Any business or home owner that is interested in the services of Fresh Cup Coffee & Water Systems' quality water without the waste can contact them directly at evscoffee(at)aol(dot)com or 858-271-4421
About Pionetics Corporation:
Pionetics is an innovative water technology company that develops smart water treatment products that deliver great tasting, safe drinking water with less waste than traditional water treatment systems. Pionetics is privately owned and financially backed by Kline Hawkes & Co, NGEN Partners, and Unilever Technology Ventures Fund.
Pionetics is located in San Carlos, CA. To date, Pionetics has been issued over 50 patents worldwide to protect its proprietary know-how and innovative technology.