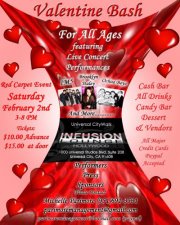 (PRWEB) January 30, 2013
All Ages Valentine Bash 2013: All Ages Valentine Bash 2013
Come out to Universal City Walk and join us for a Red Carpet Event and Live Performances! Hosting the Night: Casandra Ashe and Lia Marie Johnson. Celebration will include a red carpet, candy bar and dessert sampling, vendors, giveaways, photo opportunities, and a live performances from your favorite artists. Festivities will commence on Saturday February 2, from 3:00 PM. to 8:00 PM.
Performances by IM5, Brooklyn Haley, Ochoa Boys, Lauren Suthers aka LIL L, Baylee Valentine, Hannah Brie Howard, Ellenie, Katia Nicole, Casandra Ashe, Skyla Rayne, Pink Army featuring Lia Marie Johnson, Mozaik, FutureLove, Coed, Laci Kay, Cassidy Diane, Billy the K.I.D featuring Aliah Woodson, Yana Ted, Hudsons, Melissa Lee Diehl, Lucy Angelo, Natalie Kalamdaryan, Jayda Brown, Lela Brown featuring DJ Kiss
The Infusion Lounge LA is an amazing venue with 9,800 square feet of entertainment space, Infusion Lounge features opulent décor, expansive dance floors, premiere bottle service, and state-of-the-art lighting and sound systems on two floors.
Kenton Duty (Shake It Up),Geno Segers-Pair of Kings,Kelly Crook(Recording Artist),Dalton Gray (Treme),Tamara Melek(Recording Artist),Teala Dunn(Shake It Up!),Massi Furlan (Dark knight),Rachel Brett (Body of proof),John Barrymore (half brother of Drew Barrymore),Victoria Strauss(iCarly,The New Muppet Movie), Sophia Strauss(Gangster Squad),Erika Tascon(The Price of Success), Brooklyn Haley (Recording Artist),IM5 (Recording Artist),Ochoa Boyz (Recording Artist), Pink Army (Recording Artist), Lauren Suthers aka lil L, Hannah Brie Howard(Record Artist), Baylee Valentine(Recording Artist), Hudson (Recording Artist),This boy That Girl (Recording Artist),Matt Ryan King (Recording Artist),Mozaik (Recording Artist),Casandra Ashe (iCarly, Little Miss Sunshine),Hudson (Recording Artist),Brandon Tyler Russell (Smitty, Wiener Dog Nationals), Brendon Eggertsen (Paranormal Activity 4, Pass The Light), Jimmy Deshler(Kickin' It, Retribution), Joey Luthman (Kickin' It, How To Rock),Thomas Barbusca (The New Normal),Tyler Champagne (The Client List), Billy Fridley (The Haunted House), Trent Carlton (Modern Family), Elise Luthman (Rules of Engagement, Play James Play), Isabella Palmieri (Good Luck Charlie, Jessie), Mandalynn Carlson (CSI:NY),Kiana Lyz Rivera (Immigrant), Tina Q. Nguyen (House Arrest), Brielle Barbusca (Modern Family), Allie Carlton (Battle B-Boy),Lauren Dair Owens (New Girl),Mykayla Sohn(guys with kids, love at the Christmas table), Hannah Sohn(killer kids),Ashley Mikayla(Recording Artist)
Red Carpet 3:00PM
Presale Tickets $10 (Paypal: parimoremanagement(at)hotmail(dot)com)
At Door $15 (All Major Credit Cards Accepted)
http://allagesvalentinebash.ticketleap.com/all-ages-valentine-bash/
CONTACT: Performances/Press/Sponsors please contact parimoremanagement(at)gmail(dot)com