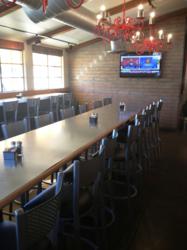 We're sure you'll enjoy our selection of traditional favorites as well as many new and exciting tastes of Mexico
~ David Candland
MiAmigo's Mexican Grill.
Phoenix-Mesa, AZ; Houston, TX; San Antonio, TX; Chicago, IL; Philadelphia, PA (PRWEB) January 31, 2013
Mi Amigo's Mexican Grill has teamed up with PageViews Interactive LLC to announce its Super Bowl Sunday happy hour extravaganza. At the restaurant's Superstition Springs venue located at 6465 East Southern Avenue in Mesa, football enthusiasts can enjoy the eatery's famed happy hour food and drink menu all evening long.
Open from 11 a.m. to 9 p.m. on Sunday, Mi Amigo's happy hour usually runs from 3 p.m. to 6 p.m. daily. Shoppers and those just getting off work enjoy the opportunity for a quick bite to eat and tasty margarita before a bigger dinner. In honor of the Super Bowl, this Sunday guests will have a chance to enjoy tasty morsels and great drink specials for the entire day. Examples include fresh lime margaritas for $2.50 and 20-ounce Dos XX cerveza drafts for $2.95. The $2.50 fiesta menu pairs these drink specials with the guests' choices of crispy beef tacos or two mini cheese quesadillas, pork taquitos with tomatillo salsa or four sopapillas.
Of course, guests who are hungry for a slightly bigger meal still have the option of ordering from the sizable menu that features all the favorites like chile rellenos, carne asada and the fish taco platter. Even if there are some in the party who do not necessarily care too much about the football game on the large televisions placed around Mi Amigo's Mexican Grill's Mesa AZ restaurant, they cannot help but love the food and fun atmosphere.
About PageViews Interactive LLC
PageViews Interactive LLC teams up with successful companies hoping to increase organic Internet traffic to business websites. Specializing in SEO strategies that are customized for each client, PageViews helps companies to increase revenue and brand awareness. Visit PageViews online at http://www.pageviews.com/ or call 480-556-9752.
About Mi Amigo's Mexican Grill
Mi Amigo's Mexican Grill serves the Mexican food Mesa AZ has come to love to crave. Operating locations at the Arizona Center in downtown Phoenix, on Gilbert Road in West Mesa and at the Superstition Springs shopping center in East Mesa, you can visit the restaurant online at http://www.miamigos.com or call the Superstition Springs venue at 480-830-6677.