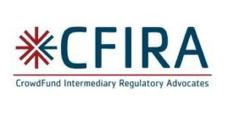 Washington, D.C. (PRWEB) January 31, 2013
Earlier this week FINRA invited prospective Crowdfunding portals to voluntarily file an interim funding portal form. The Crowdfund Intermediary Regulatory Advocates (CFIRA) and sister organization the Crowdfunding Professional Association(CfPA) have conducted a thorough review of the FINRA Registration Process Inquiry form for Crowdfunding Portals, and are optimistic about the progress that is being made toward the implementation of Title II and Title III Crowdfund Investing.
"CFIRA welcomes the SEC's approval of FINRA's Form for Funding Portals. We see this as a very positive and proactive sign that both agencies intend to prioritize rule making on the JOBS Act. This information request is the first public and meaningful step toward developing rules and the implementation of securities-based Crowdfunding," says DJ Paul of GATE Technologies and CFIRA Board member.
Kim Wales, the Founder of Wales Capital, CfPA Chair, and CFIRA Board member agrees, "CFIRA and CfPA both fully support this voluntary request for information and will encourage our members to participate and comply with this request."
"As a funding portal we see the request for information in a very positive light," says Ryan Feit the CFIRA Funding Portal Subcommittee Chair and Founder of SeedInvest. "Crowdfund Investing by nature brings transparency to the capital raising process. As an industry we are happy to be transparent by providing FINRA with the information they requested."
CFIRA and CfPA leadership are available for further discussion and recommendations on behalf of the Crowdfunding industry. They look forward to continuing to work with the SEC and FINRA as both move towards the completion of proposed rules for the JOBS Act Titles II and III.
About Crowdfunding Intermediary Regulatory Advocates
Crowdfund Intermediary Regulatory Advocates, or CFIRA, was established following the signing of the Jumpstart Our Business Startups (JOBS) Act. CFIRA is an organization formed by the Crowdfunding industry's leading platforms and experts. The group will work with the Securities & Exchange Commission (SEC), the Financial Industry Regulatory Authority (FINRA), and other affected governmental and quasi-governmental entities to help establish industry standards and best practices. For more information, visit http://www.CFIRA.org.
About the Crowdfunding Professional Association
The Crowdfunding Professional Association (CfPA) is dedicated to facilitating a vibrant, credible and growing Crowdfunding community while advocating for an industry view versus a single company perspective. Uniting a broad-based coalition of industry participants, the association is committed to ensuring the credible development of the industry, including a commitment to the highest ethical standards. The association's collaborations and insights are shared broadly to avoid onerous, stifling bureaucracy that can endanger innovation, idea generation and job creation. To learn more visit http://www.crowdfundingprofessional.org