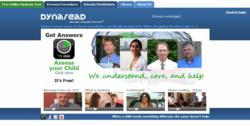 If we fail to consider the fact that many struggling readers have parents who had dyslexia as well we will never break the cycle
Denver, CO (PRWEB) January 31, 2013
Dynaread Special Education Corporation is excited to start off the new year with some new changes in their continuous drive to fight illiteracy and offer effective remediation to older struggling readers. Dynaread has launched several new initiatives to help build on its willingness to help those that struggle with dyslexia. These new initiatives include: new website launch, lower prices, and grants introduction.
Dynaread has just recently launched a new website where users can navigate through the pages with ease. There is an extensive amount of information for parents and caretakers who are looking to find the benefits, the features, and the science behind Dynaread.
Dynaread is very driven to make its way to the school system to help students with illiteracy and improve each child's confidence in their learning abilities. This is why Dynaread has added a new section to its website that directly applies to schools and institutions. This section also includes an application for a free three-month trial to interested schools that are looking for a low-cost program that has received excellent reviews from other users.
On the new website it is very easy to find information, and the extensive library with over two hundred articles is sure to cover any questions that users are looking to find answers for.
In order to allow access to children who are in need of such a program but do not have the financial means to afford it, Dynaread has lowered its prices by 15%.
Hans Dekkers; CEO: "Parents or grandparents with dyslexia increase the risk of reading struggles for their children. If we fail to consider the fact that many struggling readers have parents who had dyslexia as well we will never break the cycle. Many of these students' households are below average in usable income. We recognize that. For this reason we have also launched our in-house Grants fund."
Grants from State or Federal organizations are often difficult to obtain. The in-house Grants fund allows those who are struggling financially to have the same opportunities as others in receiving the help they need. Dynaread strongly believes in equality of learning!
Dynaread is growing tremendously in its success. There are many schools that have adopted the Dynaread program into its school curriculum, and have had great outcomes. As shown on the website, the feedback and reviews from other users has been tremendous. Dynaread is very thrilled at the positive feedback, and continuous the drive to fight illiteracy.
For more information on Dynaread, please visit: https://www.dynaread.com
Or call, toll free: + 1 800 449 1588