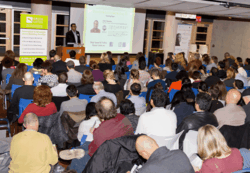 The workshop connected the YWCA Toronto to a whole new sector (technology) that we've previously not reached out to. Shana Hillman, Manager of Events at YWC
Toronto, Ontario - Canada (PRWEB) January 31, 2013
The YWCA Donate & Learn Workshop was held Dec 4, 2012 at the YWCA Toronto, the hosting charity and beneficiary of 100% of event proceeds and donations.
With a Workshop focus on social media, speakers included leading social media and online marketing experts. Stephanie Aboutallah from Canadian Tire, Richard Marginson from Xplornet, and Bassem Ghali from Green Lotus spoke about strategic social media planning, management, and the search engine marketing benefits of a social media plan.
Download the Workshop eBook including presentations, keynotes, and a case study of the event marketing strategies now!
Commenting on the success of the Workshop, Shana Hillman, Manager of Events, Stewardship and Volunteers at the YWCA Toronto says:
"What Bassem managed to put together in such a short amount of time this fall was remarkable…. Not only is the event a great fundraiser, but it's a great place for professionals to network and learn. It also connected the YWCA Toronto to a whole new sector (technology) that we've previously not reached out to."
The Donate & Learn initiative stems from an idea by Bassem Ghali, the founder of Green Lotus. When asked what prompted the decision to create this initiative, Bassem says:
"I was looking into giving back to my community, and volunteering my time. But with all the needs that exist in our communities; I wanted to find a way to generate a larger effect…. I shared the idea of doing an educational workshop, with 100% of proceeds donated to a local charity, and got nothing but encouragement, support, helpful ideas, and plenty of volunteers. The Donate and Learn Workshop concept was born, and is the result of the collaborative work of a multitude of individuals."
The Workshop is provided free of charge to participants, instead of paying a workshop fee, participants are asked to make a donation to the non-profit organization/charity hosting the event – in other words, donate and learn.
Stay tuned and follow Green Lotus for further information about the next YWCA Donate & Learn Workshop.
If you are interested in being a part of this initiative, as a speaker, event sponsor, or volunteer please contact the Green Lotus team, and get involved!
Green Lotus: 1 Yonge Street - Suite 1801. Toronto, Ontario M5E 1E5. Toll Free: 1 800-878-1667
YWCA Donate & Learn Workshop Page: http://greenlotus.ca/learn-donate-workshop