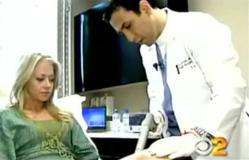 First and foremost, I'm a physician and a scientist and I need to see data before I can pass judgment.
Los Angeles, California (PRWEB) January 30, 2013
On January 16, 2013, Vogue UK reported on the launch of cellulite preventing jeans as the newest in a long line of devices designed to reduce the appearance of this flaw. According to the Vogue article, well-known fashion icon Lizzie Jagger is a spokesmodel for this new line of "miracle" jeans (go to goo.gl/N1vaq)
It might seem like a bit of a stretch to suggest that any garment could be a solution to cellulite. "It's hard to know what to make of these jeans," says Dr. Ourian, Medical Director of Epione Beverly Hills. "First and foremost, I'm a physician and a scientist and I need to see data before I can pass judgment. One wonders, however, if more money was spent here on marketing than on research and development."
The appearance of cellulite in women is somewhat inevitable, as one gets older. Women who've been thin their entire lives may be unpleasantly surprised at its appearance as they grow older.
Cellulite, with its characteristic cottage cheese appearance, is most commonly found on the buttocks and thighs and is the result of a variety of causes including aging, genetics, and hormones. Cellulite is formed when the elastin and collagen beneath the skin break down and fat becomes trapped in the lower dermis.
According to the Vogue UK article, the insides of these jeans are infused with a combination of products including monoi de Tahiti – Tiare flower buds soaked in refined coconut oil, that are designed to moisturize and fight the fat cells that create the unwanted thigh dimples. The anti-cellulite properties wear away after 6-8 washes but additional spritzing with the oils is possible thereafter.
"If nothing else," continues Dr. Ourian, "it illustrates the extent of the problem and the lengths to which women, and the companies that cater to them, will go in search of a solution. Even if these jeans are effective, they do not address other areas of the body such as the stomach and upper arms. At Epione we offer a variety of cellulite treatments and free consultations for anyone interested in visiting us to discuss their aesthetic needs and goals."
Check Epione's website for more information about cellulite, cellulite treatments and jeans that prevent cellulite.