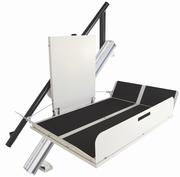 These highly affordable wheelchair lifts can save the customer from 15-25%
(PRWEB) January 30, 2013
The inclined wheelchair platform lift allows individuals to ascend or descend their staircase while on a scooter or wheelchair. This provides a huge advantage over a stairlift, which requires a person to get out of their wheelchair or scooter in order to navigate their stairway. For many people this is simply not possible due to various handicaps, health problems, or other physical ailments they may suffer from.
The only other alternative to accessing another floor in the home is a vertical platform lift. These require a significant amount of space which is generally unavailable in existing homes and may require extensive home modification. They are also more costly than the inclined platform lift.
Wheelchair lifts are generally quite costly and there is no government subsidizing for these necessary devices. The Lift Store USA now offers a highly affordable inclined platform lift from a leading manufacturer of various types of handicap lifts. "Purchasing one of these highly affordable wheelchair lifts can save the customer from 15-25% when compared to the current cost of comparable lifts – a huge advantage during these difficult economic times," reported Dennis Corrado, Director of The Lift Store USA.
The Lift Store USA has chosen to feature the Sierra Inclined Wheelchair Platform Lift manufactured by Harmar Mobility in Sarasota, Florida. It is made in America and can be ordered for either indoor or outdoor applications. Additionally, customers will enjoy generous standard features such as a 500 lb weight capacity, automatic folding ramps on both sides of the platform, and a DC motor that will operate even during a power outage. The Sierra Inclined Platform Lift is manufactured according to ASME A18.1, Sec 6 Safety Standards and includes such safety features as an over-speed governor, ramp obstruction sensors, and platform safety-pan obstruction sensors. Also included is a 2-Year Warranty and free tech support from the manufacturer.
The Lift Store USA is a division of New Line Products, LLC. Other mobility products available from this online store include stairlifts, vertical wheelchair lifts, industrial scissor lifts, pool lifts and cargo lifts. Its founder, Dennis Corrado, has over 12 years experience in the mobility lift industry, including installation, service, and troubleshooting.