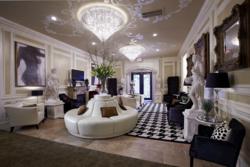 Injection Day is a quarterly event hosted by McHugh Plastic Surgery & Secret Expressions Medical Spa with specials throughout the day
(PRWEB) January 31, 2013
Injection Day is a one day quarterly event hosted by Secret Expressions Med Spa in the Woodlands TX and McHugh Plastic Surgery. On this day, both the businesses will offer special discount pricing on all injectables such as Botox, Radiesse, Juevederm, and Belotero, all administered by Dr. Thomas McHugh. In addition to these Injection Day Specials on February 7th, 2013 from 8:30AM to 5:00PM, there will be various specials throughout the boutique, med spa and salon; food and refreshments will be served. While they highly encourage appointments, walk-ins will also be accepted.

Botox Cosmetic is one of the most popular nonsurgical procedures to get rid of tiny wrinkles and creases on the face for smoother, firmer looking skin and a more youthful appearance. These injections have also been proven to alleviate migraines, reduce excessive perspiration and help with minor facial muscle spasms.
Radiesse is a long lasting noninvasive solution to fine lines, wrinkles, and facial volume loss. This dermal filler can treat most wrinkles virtually anywhere (including the forehead, cheeks, and nasolabial folds) to help regain a youthful appearance.
JUVÉDERM Ultra and JUVÉDERM Ultra Plus are fillers made from hyaluronic acid that can be injected into the smile lines, the corners of the mouth, lips, marionette lines about the chin, and even under the eyes in order to smooth and soften the wrinkles as well as add volume for areas that need volume. The addition of lidocaine in these products has made the injections even easier and more comfortable for patients.
The newest FDA approved Belotero Balance wrinkle treatment that is prone to fewer complications than with deeper treatments uses double cross-linked hyaluronic acid dermal filler when treating sensitive areas like the cheeks and around the eyes.
Dr. Thomas P. McHugh who has more than 25 years of experience in the field of cosmetic surgery is an experienced board certified plastic surgeon (M.D., P.L.L.C.), has formed a partnership between McHugh Plastic Surgery and Secret Expressions Med Spa and Luxury Boutique, compromised of a clothing boutique, medical spa and beauty salon, making this the first complete beauty center in The Woodland's Texas; clients can now enjoy the many benefits these two businesses have to offer, under one roof. In addition to offering injectables, Dr. McHugh is well known both in Hollywood and internationally, for his cosmetic breast augmentation surgeries, breast lifts and reductions, all designed to give the body a more appealing, youthful appearance.
About Dr. Thomas P. McHugh:
Dr. Thomas P. McHugh obtained his medical degree from Wayne State University in Detroit, Michigan and completed his plastic surgery residency in 1991 at the University of Texas in Galveston where he was named Chief Resident in the Plastic Surgery division. He stays informed of all of the latest technological advances in the field by attending regular meetings and adhering to a comprehensive research regimen. In addition to maintaining his private practice in The Woodlands, Dr. McHugh serves on the staff of several prestigious hospitals in The Woodlands, Kingwood and the I-45/FM1960 area of Houston. These include the Houston Northwest Surgical Center, Houston Northwest Medical Center, Kingwood Specialty Hospital and the Lake Woodlands Surgery Center.
For more information, visit http://www.mchughplasticsurgery.com and secretexpressionsmedspa.com/ or call (281) 444-3733 today. To know more about their Injection Day Specials, visit http://secretexpressionsmedspa.com/news-events/75-injection-day-specials.html
26511 Interstate 45 North
The Woodlands, Texas 77380
Phone: (281) 444-3733
Fax: (281) 444-3577