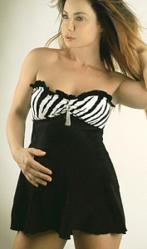 West Des Moines, Iowa (PRWEB) January 31, 2013
Whether a vacation is planned or in anticipation of looking forward to the upcoming summer season, and a baby is expected this year, Bliss Baby and Maternity has the perfect swimwear for expecting mothers. Why not show the wild side while pregnant with a fun zebra print like Ruffle Zebra Print Bandeau suit. This zesty black and white striped print bandeau is embellished with a silver tassel on the front and can also be tied at the neck if straps are needed. Feel ready for a safari with this suit. This sexy bandeau top can be worn with cutoffs, shorts or a skirt for another exotic look out of the pool.
Another option could be the Wild Thang Maternity Swimsuit. This great fitting two piece maternity suit has a bottom that can adjust from full coverage to bikini style. Longer skirt to hide the bottom. The bottoms fit securely and stretch where needed as the belly expands. The fun print will be a fashion favorite at the pool, on vacation or in the backyard. The fun print mixes pink, red, and purple that shows everyone that looking sexy can still be done while expecting.
If animal prints are not the chosen suit, opt for the Gold Dot Maternity Swimsuit. This is a black strapless suit in a timeless polka dot pattern. This suit has a black background with gold dots. Hidden tie side bikini bottoms and the back is full coverage.
Another great suit is the Black Koi Maternity swimsuit which is sure to turn heads on the beach this season. This is a black halter style suit with some gold embellishments on the top. The length is longer skirt to hide fully cover the belly and hide the bottom.
If truly wanting to wow friends and loved ones is on the agenda, while in full on animal print fashion, take a look at Bliss Baby & Maternity for all the swimwear needs for this summer. Bliss Baby & Maternity also carries cover ups and sarongs.
Pregnancy is truly a time to have some fun with fashion and why not, curves have never been more pronounced, the usual wardrobe no longer fits and really, pregnancy is beautiful so flaunt it in style. Since more clothes have to be purchased, why not buy some that accent the curves and have some fun colors, prints and styles.
Bliss Baby & Maternity.com has many other choices of swimsuits to get ready for the upcoming season or be ready for vacation and summer with a new maternity swimsuit. Stop by http://www.blissbabyandmaternity.com for all the new summer clothing needed for this coming spring and summer.