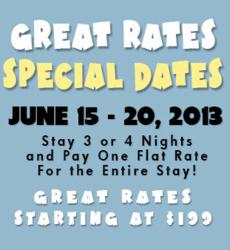 "We are really excited about this offering. Discounts for this special 3 or 4 day vacation reflect a discount of over 60% said resort owner, Roger Bruhn"
Ely, MN (PRWEB) January 31, 2013
Timber Wolf Lodge just released some excellent special rates for three or four night stays over the period of June 15-20, 2013. The special rates start at $199 for an entire three night stay in one of the beautifully renovated cabins at the resort.
To kick off the summer vacation season, Timber Wolf Lodge is offering these wonderful specials for past guests and new visitors alike.
June is a very special time of year when guests can observe the amazing rebirth of the land as spring fades into summer. Bird watchers are treated to the spectacle of thousands of birds returning from their winter sojourn to their nesting habitats in northern Minnesota. The native wildlife is welcoming new additions to their families with babies arriving in time to take advantage of the mild temperatures and abundance of food and shelter offered here in the north woods. Whether hiking, biking or boating, vacationers will have ample opportunities to observe.
Timber Wolf Lodge is located near Ely, a scenic drive from the North Shore of Lake Superior. Perched on the edge of a vast wilderness, the resort offers easy access to the Boundary Waters Canoe Area where 1200 crystal clear lakes and portages await exploration. Fishing, hunting, canoeing, birding, wildlife viewing, watersports, boating, hiking and exploring are just some of the activities that draw visitors to the area.
With the special rates now being offered for cabins of many sizes, finding the accommodations perfectly suited to a family or group is easy. Pricing for these specials is offered for either three or four nights in one of the dozen accommodations available.
Contact Timber Wolf Lodge to make your 2013 vacation plans quickly for the best selection. TimberWolfLodge.com provides full descriptions of each cabin to assist with your selection.
While these special prices are available from June 14-20, 2013, vacation stays of longer duration are available throughout the three seasons of operation at the Timber Wolf Lodge. With a knowledgeable staff ready to assist, the options for tailoring a vacation to specific interests and needs are nearly endless. Unbroken by city sounds or lights, the surrounding natural environment is genuinely inspiring. Relaxation on the shores of Bear Island Lake comes easily as the stresses of everyday life fade away. Experience the sound of loons calling across the water, accenting the snapping and crackling of the campfire at days end. Feast on the fish caught from the clear lakes. Watch the sunset reflected in the water. This is an authentic Minnesota vacation, an experience you will never forget, waiting for you, at this northern Ely Minnesota resort.
"We've set aside June 15-20, 2013 as a fantastic opportunity to visit Timber Wolf Lodge at a most beautiful time of year. Fishing is really prime in June and we have watercraft of every sort, along with all the equipment and bait anyone could wish for said Roger Bruhn, resort owner."
We are really excited about this offering said Bruhn". "Cabins 2-12 encompass sizes from one to five bedrooms and the rates during this special are for the entire three or four night stay, rather than by the night. Discounts for this special reflect a discount of up to 60%!"
To take advantage of the "Great Rates, Special Dates" opportunity, or for personalized service and assistance in planning a vacation to the pristine wilderness of northern Minnesota, visit the http://www.timberwolflodge.com website or e-mail guest@timberwolflodge.com and place GREAT RATE in the subject line or call 218-827-3512.