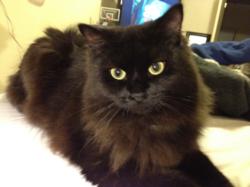 Brea, California (PRWEB) January 31, 2013
Many of us have experienced a laundry mishap or two – perhaps inadvertently mixing our "darks" with our "whites." Unfortunately for Daryl Humdy of Oakland, Calif., he arrived home in December to find a much more serious laundry calamity when his six-month-old Siberian Forest cat, Natasha accidentally went through an entire wash cycle. The incident resulted in severe hypothermia and a trip to the emergency animal hospital, earning Natasha the title of December's "Most Unusual Claim of the Month" by Veterinary Pet Insurance Co. (VPI).
"My roommate was loading his laundry and left the lid to the washing machine open while he went to the next room to grab more clothes," explained Daryl. "He came back, threw his clothes in, and shut the lid to the washing machine without realizing that Natasha had jumped into it while he had been away."
Natasha went through the full, 35-minute wash cycle. Daryl arrived home just as his roommate was pulling out his clothes to find a soaked and visibly shaken kitten. Shocked at what had just transpired, Daryl immediately rushed Natasha to the emergency animal hospital.
"I knew I had to make a quick decision," said Daryl. "Natasha was shaking and crying. I knew she was frightened, and I was frightened for her."
At the hospital, Natasha was treated for hypothermia and shock, but was very fortunate to escape the scary ordeal without receiving any broken bones or other, more serious injuries. The veterinarian even praised Natasha as the most pleasant-smelling pet they had ever treated. Natasha has since made a full recovery and is as active as ever around the house – except when she's near the laundry room.
"Since I brought Natasha home as a newborn kitten, she had always been very curious about the washing machine," explained Daryl. "She would always take a peek inside, but I never thought she would jump in. My roommate and I are much more cautious around the house now, because we would hate for her to have to go through something like that again."
Resolved to spend whatever amount of money it took to ensure his frisky feline would pull through the terrifying ordeal, Daryl was appreciative that his employer, Zynga Inc., is one of the more than 3,000 organizations and associations nationwide to offer VPI Pet Insurance as a voluntary employee benefit.
"I am very thankful that Zynga offers VPI Pet Insurance," said Daryl. "I was reimbursed for nearly all of the treatment costs, and I get a discount on my policy through work."
"Natasha's ordeal shows the importance of pet-proofing your home for kittens and puppies," said Carol McConnell, DVM, MBA, vice president and chief veterinary medical officer for VPI. "Like young children, young pets are naturally curious. In addition to familiarizing new pets with their surroundings, specific action should be taken by pet owners to prevent potentially harmful and even fatal events from occurring."
Fortunately, in this instance, curiosity did not kill the cat. Natasha's incident was one of more than 80,000 claims received in the month of December by VPI, the nation's oldest and largest provider of pet health insurance, and was selected by VPI employees as the most unusual of the bunch. Honorable mentions in December included a blue heeler canine that sustained blunt trauma after being chased down and kicked by a mule, a poodle that was hit by a bicycle, and a St. Bernard that ingested a holiday ornament. All pets considered for the award made full recoveries and received insurance reimbursements for eligible expenses.
As the most unusual claim submitted in December, Natasha will be in the running for the 2013 VPI Hambone Award. Other nominees include Chance the Labrador retriever who was butted by a goat, Ariel the Himalayan kitten who was trapped underneath her pet parent's garage door, and Annie the Yorkshire terrier that was stranded outdoors during one of the worst storms in North American history. For more information about the VPI Hambone Award, or to read about all of the 2013 nominees, visit http://www.VPIHamboneAward.com.
About VPI Hambone Award
The VPI Hambone Award is named in honor of a VPI-insured dog that got stuck in a refrigerator and ate an entire Thanksgiving ham while waiting for someone to rescue him. The dog was eventually found, with a licked-clean ham bone and a mild case of hypothermia. This quirky title was first awarded in 2009 to Lulu, a hungry English bulldog who swallowed 15 baby pacifiers, a bottle cap and a piece of a basketball. The VPI Hambone Award and these unusual pet insurance claims have since helped educate the public about the unexpected mishaps that can affect household pets. Stories and pictures of the VPI Hambone Award nominees are available at VPIHamboneAward.com.
About Veterinary Pet Insurance
With more than 485,000 pets insured nationwide, Veterinary Pet Insurance Co./DVM Insurance Agency (VPI) is a member of the Nationwide Insurance family of companies and is the oldest and largest pet health insurance company in the United States. Since 1982, VPI has helped provide pet owners with peace of mind and is committed to being the trusted choice of America's pet lovers.
VPI Pet Insurance plans cover dogs, cats, birds and exotic pets for multiple medical problems and conditions relating to accidents, illnesses and injuries. CareGuard® coverage for routine care is available for an additional premium. Medical plans are available in all 50 states and the District of Columbia. Additionally, one in three Fortune 500 companies offers VPI Pet Insurance as an employee benefit. Policies are offered and administered by Veterinary Pet Insurance Company in California and DVM Insurance Agency in all other states. Underwritten by Veterinary Pet Insurance Company (CA), Brea, CA, an A.M. Best A rated company (2012); National Casualty Company (all other states), Madison, WI, an A.M. Best A+ rated company (2012). Pet owners can find VPI Pet Insurance on Facebook or follow @VPI on Twitter. For more information about VPI Pet Insurance, call 800-USA-PETS (800-872-7387) or visit petinsurance.com.