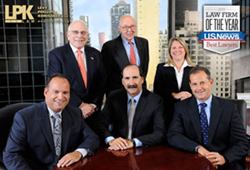 ST. LOUIS, MISSOURI (PRWEB) January 31, 2013
Mesothelioma lawyers from the national asbestos litigation firm of Levy Phillips & Konigsberg LLP ("LPK") are continuing to help Missouri mesothelioma patients and families obtain legal compensation from companies who manufactured, sold or used asbestos-containing products. Led by Jerome H. Block, a Missouri-licensed attorney and St. Louis native, LPK's litigation team vigorously advocates for the legal rights of Missouri mesothelioma patients and family members.
Each year, approximately three thousand of men and women across the country, including many in Missouri, are diagnosed with mesothelioma, an aggressive asbestos cancer. According to data obtained from the Missouri Department and Health and Senior Services, approximately 50 people are diagnosed with mesothelioma each year in Missouri. In 1999, the Centers for Disease Control collected data showing that Missouri was the state with the 17th most deaths from mesothelioma in the nation. Asbestos-related diseases, such as mesothelioma, lung cancer and asbestosis, are preventable if workers are protected from exposure to asbestos.
Missouri residents have been exposed to asbestos at industrial facilities, shipyards, mechanic shops, auto assembly plants, oil refineries, and power plants, among other sites. Many of these asbestos exposure sites are located in and around the two largest cities in Missouri – St. Louis and Kansas City. However, the asbestos problem in Missouri was not limited to urban areas. Many asbestos exposure sites were located in rural areas, particularly manufacturing facilities. In Missouri, and across the country, many people also developed mesothelioma from non-occupational asbestos exposures, such as automotive work and home renovations, or from "second-hand asbestos exposure," which occurred when work clothes contaminated with asbestos were worn home.
Jerome H. Block, a mesothelioma lawyer, who began his career with the largest law firm in Missouri and now, as an LPK partner, represents clients in New York and nationwide, has been selected among the Best Lawyers in America for his work on mesothelioma cancer cases. Mr. Block shares new, expanded maps showing a few of the many job sites* in Missouri at which asbestos exposure may have occurred: http://www.levylaw.com/missouri-mesothelioma-lawyer.php
If you or your loved one are a Missouri resident or were exposed to asbestos in Missouri, and have been diagnosed with mesothelioma or another asbestos-related disease, please call 1-800-637-6529 or contact us electronically at http://www.levylaw.com to receive a free consultation with an experienced Missouri mesothelioma lawyer at Levy Phillips & Konigsberg LLP.
*Most of the sites are referenced at http://www.epa.gov/superfund/sites/products/LIST-8.pdf