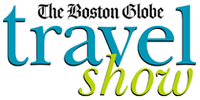 Boston, MA (PRWEB) January 31, 2013
Tired of shoveling snow and scraping off the car? Join thousands of travelers at the 2013 Boston Globe Travel Show on February 8-10, 2013 at the Seaport World Trade Center in Boston. More than 25,000 people are expected to explore exotic destinations and New England vacations at this three-day travel event. Perfect for the entire family, the 2013 Boston Globe Travel Show will feature exhibitors showcasing travel destinations from around the world, great show-only travel deals, cultural and culinary presentations, trip giveaways and much more.
The 2013 Boston Globe Travel Show will be open to the public from 5:30 - 8:00 p.m. on Friday, February 8; from 10 a.m. - 6 p.m. on Saturday, February 9; and from 10 a.m. - 4 p.m. on Sunday, February 10. Tickets for the show are $10 and are available at the show or in advance at http://www.bostonglobetravelshow.com. Children 18 and under are admitted free of charge.
New to the show in 2013 is the Northeast Craft Beer Pavilion, showcasing craft breweries from around New England as well as the rest of the United States. Attendees to the pavilion will have the opportunity to sample more than 50 different beers from 20 different breweries. For those looking to quench their thirst for beer knowledge and travel, several breweries will also provide information on tours of their brewing facilities, while other beer fest exhibitors offer trip packages including beer and wine tours visiting many destinations across Europe and The Americas. A full list of participating breweries can be found at http://www.bostonglobetravelshow.com/beer.
The Northeast Craft Beer Pavilion will feature three tasting sessions, on Saturday from 12 noon – 2:30 p.m and from 3:30 p.m. – 6:00 p.m. and again on Sunday from 1:00 p.m. – 3:30 p.m. A limited number of tickets will be sold for each session to ensure everyone has access to beer samples. Tickets are $25 per session in advance and include entrance to the Boston Globe Travel Show. Advance tickets can be purchased at http://www.bostonglobetravelshow.com. Pending availability, tickets can be purchased at the box office on the day of the event for $35.00. Individuals must be 21 years of age to enter the Northeast Craft Beer Pavilion.
More than just a trade show, The Boston Globe Travel Show is a weekend destination. The three-day event features more than 300 exhibitors, representing every segment of the travel industry and offering detailed information on trips to every region of the world. Attendees will learn about new and exciting travel opportunities ranging from budget vacations to luxury escapes, vacation rentals and much more, and those interested in booking a vacation will find great deals on-site.
Highlights of the 2013 show include:

Celebrated travel writer Pauline Frommer will be on hand to talk about when to splurge and when to scrimp on vacation as well as introducing travelers to places often not have considered. Patricia Schultz, international bestselling author of 1,000 Places To See Before You Die, will showcase some of the most amazing must-see destinations on Earth.
The salty stars of National Geographic Channel's breakout hit Wicked Tuna will be interviewed live by Boston Globe writer Sarah Rodman as the audience views exclusive show clips and hears stories of life behind the scenes.
Two stages of culinary demonstrations, hosted by the Phantom Gourmet. Local chefs and celebrated food writers will demonstrate recipes and offer tastings from some of their top destinations for cuisine.
Cultural performances, including The Beautiful Art of Belly Dance, Puerto Rico Now - Salsa Time!, Iskwelahang Pilipino, Chinese Classical and Folk Dance, Irish Step Dancing, Indonesian Saman Dance, improv comedy from Charleston, South Carolina's Have Nots, and a performance from Rambax, a Senegalese drumming ensemble.
SeaWorld Parks & Entertainment will be on hand with some of their famous friends, including Magellanic penguins, a Red Ruffed lemur, a sloth, a Tegu lizard, an American alligator and an opossum. They will be holding animal demonstrations on the cultural stage and introducing New England travelers to their biggest attraction ever: Antarctica – Empire of the Penguin.
Attendees at the 2013 Boston Globe Travel Show will also have an opportunity to win great giveaways, including a trip for two to South Africa, four round trip tickets on the Amtrak Downeaster, a six night stay the Outer Banks of North Carolina, a trip for two to Italy, a free round-trip ticket from Boston to Toyko, a one-week stay at the Mittersill Alpine Resort in NH, and much more. All information about the show, entertainment and trip giveaways, as well as a full list of exhibitors, can be found on The Boston Globe Travel Show Web site at http://www.bostonglobetravelshow.com.
Sponsors for the 2013 show include JetBlue Getaways, SeaWorld Parks & Entertainment, The Azores, Aer Lingus, Aruba, Incredible India, Cruise Travel Outlet, Inc., The Omni Mount Washington Resort, League of NH Craftsmen, New Hampshire Lakes Region Tourism Association, The Bethel Inn Resort, Ocean Properties, Ltd. Hotels & Resorts, Boston Ballet, Spring Resort and the Massachusetts Office of Travel & Tourism.
About The Boston Globe
The Boston Globe is wholly owned by the New York Times Company, a leading global, multimedia news and information company with 2011 revenues of $2.3 billion, includes The New York Times, the International Herald Tribune, The Boston Globe, NYTimes.com, BostonGlobe.com, Boston.com and related properties. The company's core purpose is to enhance society by creating, collecting and distributing high-quality news and information.