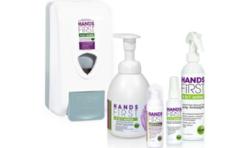 Our hands represent the most common point of contact between ourselves and others, making hand hygiene a first line of flu defense and protection
Nixa, MO (PRWEB) January 31, 2013
According to the Centers for Disease Control flu activity started early this year and levels remain high in the United States. It is especially important for everyone to get vaccinated and take every day preventative steps, liking using the newly developed Hands First hand sanitizer, to slow the spread of germs that cause respiratory illness. Washing with warm water and soap remains a key component of hand hygiene, but sometimes it is impractical to wash between contaminations. Selecting an alcohol-free sanitizer, like Hands First will ensure hands are cleaned and protected without drying out or irritating skin.
Viral illnesses like the flu are spread from person to person, most commonly through direct contact. "It is important to remember that many times co-workers come to work when they are first experiencing symptoms but are already contagious," said Roger Huckfeldt, MD and inventor of Hands First. "Our hands represent the most common point of contact between ourselves and others, making hand hygiene a first line of flu defense and protection," he says.
Hand sanitizers provide a reliable option when it is impossible to wash hands with soap and water. However, it is important to realize that not all hand sanitizers are the same. Here are important things to consider when choosing an appropriate hand sanitizer:
1.How long does the sanitizer offer protection?
Alcohol based sanitizers provide the shortest period of protection overall and different products have unique characteristics that may enhance coverage against recontamination.
2.Does the sanitizer dry out the skin resulting in additional cracks and irritations?
These minor injuries not only discourage use of a sanitizer often enough, but actually increase your risk of problems.
3.Does the sanitizer burn or sting when applied?
Pain when applying is likely to decrease your usage and the likelihood you use it on your child and leave you vulnerable to further infection.
4.Is the sanitizer really a sanitizer?
Sanitizers are regulated through the FDA either as drug applications or via monograph. An easy check is to review the label. If the label does not have an active drug listing for an antiseptic or antimicrobial component, then chances are, it is not a sanitizer.
Hands First contains two active ingredients; allantoin to help protect the minor cuts, scrapes, and burns on the skin and benzalkonium chloride to provide lasting antimicrobial protection, all without any painful stinging or burning from alcohol.
"Hands First is more than just alcohol-free, the antimicrobial protection will kill bacteria and viruses that are on the hands, while the skin protectant places an invisible layer of protection on skin and wounds, helping skin treat and heal itself," says Huckfeldt.
Hands First is a needed improvement over other hand sanitizers for flu season . Hands First is available 1.7 oz. bottles, 12 oz. bottles, 20 oz. bottles and wall mounts, ensuring the hand sanitation needs of any type can be met. For more information or to purchase Hands First, visit http://www.healthybrandsforlife.com.