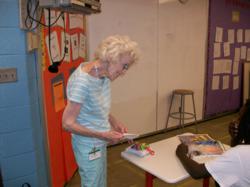 It's amazing what can happen when you know someone special believes in you.
Charlotte, NC (PRWEB) January 31, 2013
Alexander Youth Network calls for mentors to perpetuate the spirit of National Mentoring Month (January) throughout the year. At Alexander Youth Network, mentors are specially trained and tasked with helping children with emotional and behavioral challenges. Mentors interact with children on a one-to-one basis serving as meal buddies, recreation volunteers or tutors. More information can be found on Alexander Youth Network's website: http://www.alexanderyouthnetwork.org/mentor.
Anyone interested in mentoring can review the online application process. Questions can be referred to our Volunteer and Donor Engagement Officer at volunteer@alexanderyouthnetwork.org or 704-362-6760.
"It's amazing what can happen when you know someone special believes in you," said Craig Bass, CEO of Alexander Youth Network. "Time and time again we see that kids with mentors and positive role models heal faster and better realize their potential than those without."
Becoming a mentor is a big commitment; beginning a relationship with a child that has emotional challenges can be daunting. The following tips ensure positive mentee/mentor experiences.

Learn about the child before you meet, and what he or she finds enjoyable or soothing. Come prepared to do a specific activity, like reading a book of jokes or playing a basketball. More suggestions for fun, stress-free activities can be found at our online Mentoring Resource page.
Put together an activity kit just for your new friend. Each time you visit, he or she can select an activity from the kit. Change the contents often.
Keep in mind that children who have developmental issues due to early childhood trauma may not be able to perform a lot of cognitive or relational activities. If this is the case, parallel play might be more comfortable than cooperative or competitive play.
Be a good listener. Don't feel as though you have to have all the answers or offer advice.
Be supportive and let your mentee know you care.
Direct service volunteers must successfully complete an application process, attend a three-hour orientation and commit to a minimum of six months of service and a weekly visit. To protect the children in our care, prospective mentors at Alexander Youth Network must pass a health screening, a criminal background check and a driving record check.
From eleven regional service locations, Alexander Youth Network serves children and their families from across the state with a complete continuum of quality services including: a Psychiatric Residential Treatment Facility, Day Treatment, Therapeutic Foster Care, Multidimensional Treatment Foster Care, Multi-Systemic Therapy, Intensive In-Home, Outpatient Services, Medication Management, Targeted Case Management, and the services of The Relatives for at-risk, homeless, and aging-out youth. Alexander Youth Network is a flagship program of the Neurosequential Model of Therapeutics™ for addressing the clinical approach to trauma-focused therapies, and it has brought nine best-practice and evidence-based therapies to surrounding communities. For more information about Alexander Youth Network, visit http://www.alexanderyouthnetwork.org.