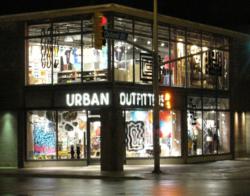 Philadelphia,PA (PRWEB) January 30, 2013
Urban Outfitters opens this Thursday January 31st in London, Ontario, located at 743 Richmond Street, at the start of Richmond Row—London's most popular shopping and entertainment district. This is the first Urban Outfitters store in London, making it a key destination for Southwestern Ontario locals. "Being a mostly collegiate city has really given London a reputation for education and cultural happenings, says Sarah Liesing, Urban Outfitters District Manager for Ontario. "It has a great pull for musical and artistic exhibits," she adds. The two-story building boasts more than eight thousand square feet of shoppable space and features a stunning glass and steel storefront designed to illuminate the corner of Oxford Street while welcoming in shoppers from the row.
A special store opening party will be held on Thursday February 7th from 6pm-8pm and will feature live performances by Canadian based artists Richie Blackz and The Elwins, and a headline performance by American Indie Pop Band Eternal Summers.
About Urban Outfitters:
Urban Outfitters is an eclectic lifestyle retailer dedicated to inspiring customers through a unique combination of product, creativity, and cultural understanding. Founded in 1970 in a small space across the street from the University of Pennsylvania, Urban Outfitters now operates over 200 stores in the United States, Canada and Europe offering experiential retail environments and curated women's, men's, and home product assortments.