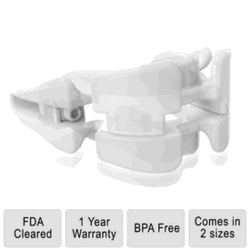 "It really works! My wife won't let me come to bed without it. We both get a better nights sleep with VitalSleep."
New York, NY (PRWEB) January 31, 2013
The trusted mouth guard for snoring offered by VitalSleep provides consumers with security by offering replacements at no cost for up to a complete year after purchase. VitalSleep understands that in the swing of life, unexpected things can happen. There are a number of reasons that people may need a replacement during the first year such as:

Improper molding
Lost or damaged
Curious about other sizes
No matter the reason, VitalSleep will provide the replacement. At the end of the day, the main concern is that consumers are completely satisfied with their purchase.
The VitaSleep stop snoring mouthguard essentially works to open the airway and provide an easier breathing capacity by slightly adjusting the position of the jaw. The end results are that people can breathe easier and helps reduce or even completely eliminate snoring. The device is entirely adjustable so that it is custom-made to the specific needs of each snorer.
This snoring product can be adjusted in the privacy of your home by placing it in hot water and then making fine adjustments until the appropriate fit is acquired. There are two sizes available: regular for men and small for women. VitalSleep understands the importance of a proper fitting so they have created their product to be available to a broader demographic. Furthermore, the mouthpiece is FDA cleared and BPA-free. The goal is to make for a better night's rest in order to help people live a more productive and happier lifestyle.
What Consumers Say
According to recent reviews, buyers have indicated that the mouthpiece is effective in its ability to help stop snoring. Consumers agree that VitaSleep has changed their life for the better.
C. Moore from Aurora, CO explains the life-changing impacts that VitaSleep has had on his relationship
"It really works! My wife won't let me come to bed without it. We both get a better nights sleep with VitalSleep."
J. Lisle from Frederick, MD, a seasoned VitaSleep mouthpiece user, explains how the product has made sleep more restful.
"I have been using the VitalSleep for about 1 year. It has allowed be sleep get great sleep again as well as sleep with my wife which has not been possible for over 5 years. Thanks for making that possible! The device is comfortable and durable. Thanks!"
Now, with replacements offered for up to a year after purchase, VitalSleep is engaging consumers by providing a respectable snoring remedy with options for those that know that life sometimes happens and replacements are necessary.