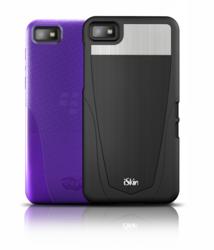 Those who plan on getting their hands on the exciting new Blackberry Z10 device should also plan on keeping it safe. iSkin is committed to delivering quality products that are fashionable, affordable and most importantly, protects your beloved Blackberry
Toronto, ON (PRWEB) January 31, 2013
iSkin, a premium brand of fashion and technology lifestyle accessories, has announced the upcoming release of the iSkin collection of protective cases tailored for the new BlackBerry 10 series smartphones.
The company plans to release a new line of iSkin Vibes for the BlackBerry Z10. iSkin Vibes feature a sculpted, form-fitting design with patterned outer surface details and will be available in a variety of bold, fashionable colors including black. iSkin Vibes provide full body protection and will also include a protective screen film.
Also primed for release is a new line of iSkin aura cases for the BlackBerry Z10. Designed to appeal to those seeking slim, lightweight protection and sophisticated styling, the aura cases feature a durable polycarbonate frame finished with brushed aluminum accents. The aura will also include a protective screen film for the BlackBerry Z10. The case is expected to retail for $39.99 USD.
"Those who plan on getting their hands on the exciting new BlackBerry Z10 device should also plan on keeping it safe. iSkin is committed to delivering quality products that are fashionable, affordable and, most importantly, protects your beloved BlackBerry," says Andrew Ackloo, the CEO of iSkin.
Both products are expected for release in February online at iSkin.com and at select retailers.
iSkin has set up a product notification page for those who wish to be notified of its new products at: http://www.iSkin.com/BB10
About iSkin Inc.
iSkin Inc. has been one of the world's most trusted mobile accessory brands since its first advanced protective solution for the iPod® in 2002. Known for its cool, innovative designs and fashion-forward style, iSkin continues to be the leading mobile accessory brand. iSkin continues to focus on delivering the highest quality, innovative design and fashion-forward style in accessories for Apple®, BlackBerry® and now Samsung®.
The iSkin word mark and logo are registered trademarks of iSkin Inc., registered in Canada, the United States and other countries. All Rights Reserved 2006-2012. Apple®, iPad® and iPad® mini are trademarks of Apple Inc., registered in the U.S. and other countries. Other company and product names mentioned herein are registered trademarks of their respective companies.
For further information contact:
Press(at)iSkin(dot)com
http://www.twitter.com/iSkin
http://www.facebook.com/myiSkin