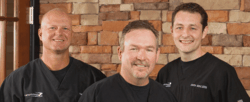 Fort Worth, TX (PRWEB) January 31, 2013
At Fort Worth Dental, Dr. Terry M. Zang, Dr. Arthur J. Mund and Dr. Justin Mund treat patients for sleep apnea with modern dental treatments. Patients may not realize that in addition to medical solutions, there are treatments that can be provided by a sleep apnea dentist. There are certain oral devices they now offer that may be very beneficial in helping a patient with sleep apnea.
Sleep apnea is a condition where a patient stops breathing multiple times while sleeping because the airway is blocked. Obstructive sleep apnea is often caused when the soft tissue in the throat intermittently collapses while the patient is sleeping. This is the most common form of sleep apnea. Central sleep apnea is rarer, and happens when the brain does not properly send the signal for breathing to the muscles. The result of either type of apnea is that a person stops breathing anywhere from a few times to hundreds of times while they sleep. The disorder is often undiagnosed.
A sleep apnea dentist can help patients who have been diagnosed with mild to moderate sleep apnea. If a person exhibits any of the symptoms of the disorder, they should contact a medical or dental practitioner for diagnosis. Symptoms include loud snoring while sleeping, difficulty sleeping, shortness of breath in the night that wakes a person up, frequent headaches upon waking, extreme fatigue or drowsiness throughout the day and choking sounds or snorting while sleeping.
Because sleep apnea can lead to a number of issues including higher risk for stroke, heart failure or high blood pressure, among other things, it is a medically serious condition. In addition, the chronic fatigue can cause problems with a person's ability to function at work or school and when driving a vehicle. It has also been shown to negatively affect medications a person takes. Some of the basic treatments often prescribed include having the patient sleep on the side rather than the back, losing weight and quitting smoking. In addition, a sleep apnea dentist can provide a dental device similar to a sports mouth guard that will help to hold the tongue in place or keep the mouth in a position that prevents blockage of the throat during sleep. Additional information on sleep apnea is available at http://www.fortworthdental.com.
Fort Worth Dental is a general practice offering patients personalized dental care for Fort Worth, TX. Dr. Terry M. Zang, Dr. Arthur J. Mund and Dr. Justin Mund are all dedicated to their dental practice, which offers the recent FDA cleared laser procedure for gum disease and periodontal treatment. Focused on preventative, restorative and cosmetic dentistry, they each have unique attributes for the practice. To learn more about Fort Worth Dental and their dental services visit their website at http://www.fortworthdental.com.