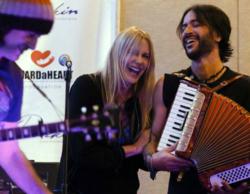 Irvine, CA (PRWEB) January 31, 2013
Aviir Inc., a biotechnology company, dedicated to the prevention of cardiovascular disease through innovative laboratory tests, sponsored the Eco Hideaway Music Artist Stage at The Chateaux in Park City, Utah, January 19-21 during the Sundance Film Festival. In collaboration with GUARDaHEART Foundation, a non-profit committed to Heart Disease prevention, Aviir's Music Stage included a diverse mix of over 30 musical acts, all in support of GUARDaHEART's SaveThe1 movement, a campaign designed to promote Heart Disease awareness and education.
GUARDaHEART Foundation teamed up with Aviir Laboratories, to provide on-site blood draws at the Eco Hide-Away. The newly developed MIRISK VP™ test is designed to identify those who are truly at risk of Heart Disease. The easy-to-understand risk score categorizes an individual's risk of experiencing a cardiac event within the next 5 years. The purpose of identifying those who are truly at risk in the earliest stages of Heart Disease is to promote preventative lifestyle modifications, before a heart attack can occur.
The Eco Hide-Away Music Stage featured musicians from all over the US, including: The Voice's Finalist Jared Blake, Maddie Wilson, Natalie Gelman, Cruzmatik, Stolen Rhodes, Amy Weber, BigA, The Command Sisters, Erick Macek, Duwende, My Cousin the Emperor, Pablo Blaqk, The Almighty Grind, Bon Vivant, VanLadyLove, Burning Slow, Johnny Kaplan & The Lazy Stars, members of the Foo Fighters and Wallflowers with Darryl Hannah, Andy Frasco, Out of Ether, Palace Ballroom, and Casey Frazier. More than 3,000 musical acts submitted requests to be a part of the exclusive Eco Hide-Away Sound Stage, sponsored by Aviir Laboratories and produced by Durkin Entertainment.
"The Eco Hide-Away provided a great place for up and coming musicians to connect with other artists and display their talents, while raising awareness for Heart Disease," Dr. Douglas Harrington, CEO of Aviir Diagnostics commented. "Since musicians spend much of their life on the road and often live a fast-paced lifestyle, they understand first-hand the value of Heart Disease prevention."
Aviir Company Overview
Aviir was founded in 2005 by cardiologists and scientists from the Stanford University School of Medicine to focus on the discovery, development and commercialization of innovative diagnostic tests. The biotechnology company specializes in developing proprietary diagnostic tests to assist in identifying patients who are truly at high risk for the development of a cardiac event. Aviir's proprietary MIRISK™ and MIRISK VP™ assessments objectively identify, using a single blood draw, individuals who are at a high risk of experiencing a cardiac event over the next five years. Aviir's CLIA-certified laboratory (Irvine, CA) complements these novel tests with a wide range of additional tests for heart health assessment and therapeutic monitoring of cardiovascular disease and related metabolic disorders – including pharmacogenomic and genetic tests. The company has adopted a unique clinical laboratory service model to provide physicians better diagnostic tools to help improve the cardiovascular health of their patients. The company is privately owned and funded by leading life science venture capital firms. Please visit http://www.aviir.com for more information.
About Guard A Heart
Guard A Heart is a non-profit foundation dedicated to raising awareness of heart disease prevention by spreading the word to guard your heart and save your life. Cardiovascular disease is the leading cause of death in the United States. The good news is if individuals know their risk and take the necessary steps, most cardiovascular disease is preventable. Although heart disease is typically diagnosed in adulthood, its roots are often found in childhood. Compelling research has shown that plaque buildup in the arterial walls begins very early in life and progresses through increasing degrees of atherosclerosis. Intervention strategies and healthy lifestyle changes to reduce heart disease risk should begin in childhood when reversal of the process is easier, not later in life when the disease is more fully developed. GUARDaHEART Foundation also provides assistance for individuals who are unable to pay for cardiac risk assessments. Please visit http://www.guardaheart.org for more information.
For more information and press interviews, contact Tamara York of Tamara York Public Relations, email: tamara(at)tamarayorkpr(dot)com.