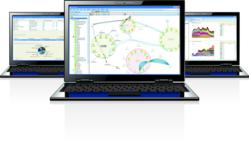 LiveAction enables network administrators to identify and mitigate security problems in real-time and perform network forensics on events that have been recorded in its traffic flow and QoS historical databases ...
Honolulu, HI (PRWEB) January 31, 2013
ActionPacked! Networks™ announced today that Info Security Products Guide, the industry's leading information security research and advisory guide, has named LiveAction®, a finalist for the 2013 Global Excellence Awards in the Network Security and Management category. These prestigious global awards recognize security and IT vendors with advanced, ground-breaking products and solutions that are helping set the bar higher for others in all areas of security and technologies.
LiveAction helps takes security to a higher level by providing real-time situational awareness and control. Delivering rich and clear visualizations of the network topology, devices, and interfaces enable users to clearly see the current status the network, including who is on it, who is trying to get in, how traffic is traversing, which applications are running, and what they are attempting to do. LiveAction features and capabilities include:
LiveAction Flow: Offers a network topology view providing a unique end-to-end flow visualization of live traffic across the network. Users can quickly drill down to individual devices or interfaces for more detail on flow characteristics such as IP addresses, DSCP values, byte rates and count. This makes it easy to visualize trouble spots on the network and gain a better understanding of traffic patterns.
LiveAction QoS Configure: Enables IT engineers to create, edit, and apply QoS policies for Cisco® routers and Layer 3 switches on live networks with consistency and confidence. The QoS wizard and built-in templates can be used to apply policies based on Cisco® best practices or use the QoS GUI editor to create and edit policies from scratch.
LiveAction QoS Monitor: Provides the ability to track QoS performance on a per-class basis in real-time or for historical time periods. Engineers can gain a deep understanding of traffic and QoS behavior using LiveAction application (NBAR), class or queuing views. Monitoring and alerting of priority queue drops provides proactive notification of potential voice quality issues.
LiveAction LAN: provides, real-time Layer 2 visualization for networks, including trunk interfaces, port channels, VLAN associations and bandwidth percentages.
LiveAction Routing: Provides real-time routing visualization for Cisco networks that can identify reachability problems, routing loops and asymmetric paths that can affect traffic quality. The module's policy-based routing viewer/editor provides a high degree of control over traffic policy allowing users to route traffic easily and predictably over user-specified paths.
LiveAction IP SLA: Makes Cisco IOS IP SLA operations easily accessible for generating and monitoring synthetic network traffic to baseline network performance, test policy changes, or proactively monitor key network paths. Synthetic traffic types include data (HTTP, FTP, DNS, DHCP) and voice that can be used to measure latency, loss, jitter, and mean opinion core (MOS) for VoIP. Its highly interactive graphical interface delivers the functionality and flexibility of IP SLA features without the need to learn and use Cisco device command lines.
"LiveAction enables network administrators to identify and mitigate security problems in real-time and perform network forensics on events that have been recorded in its traffic flow and QoS historical databases to help better secure the network and IT infrastructure," said Dana Matsunaga, President and CEO, ActionPacked! Networks. "We are proud to be recognized as a Global Excellence Award finalist in network security and management by Info Security Products Guide. We believe this recognition further validates our commitment of providing comprehensive manageability into network devices."
Download a free trial of LiveAction at http://www.actionpacked.com/liveactiondownload.
For more information on ActionPacked! Networks, visit http://www.actionpacked.com.
About ActionPacked! Networks
ActionPacked! Networks is the leader in quality-of-service software for implementing VoIP, Telepresence, Unified Communications, Medianet and other mission-critical services. The company's LiveAction software increases network service quality and shortens outages by providing true understanding and precise control using rich visualizations and direct device interaction. LiveAction is a sophisticated network management tool that helps simplify the complexity of monitoring, analyzing, and configuring technology areas such as: QoS, LAN, NetFlow, Routing, and IP SLA embedded inside Cisco devices to provide an all-in-one solution that can support both QoS auditing and provisioning.
About Info Security Products Guide Awards
SVUS Awards organized by Silicon Valley Communications are conferred in four annual award programs: The Info Security's Global Excellence Awards, The IT Industry's Hot Companies and Best Products Awards, The Golden Bridge Business and Innovation Awards, and Consumer Products Guide's Best Choice Awards. These premier awards honor organizations of all types and sizes from all over the world including people behind them, the products, performance, PR and marketing. To learn more, visit http://www.svusawards.com.
###
ActionPacked! Networks and LiveAction are registered trademarks of ActionPacked! Networks. Cisco is a registered trademark of Cisco Systems, Inc. and/or its affiliates in the United States and certain other countries.