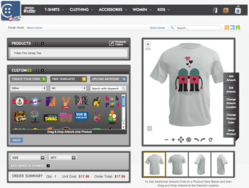 Chicago, IL (PRWEB) January 31, 2013
Izo Brands is proud to present the first ever site tu torial for Customizo.com's updated design capabilities. The video gives a general overview of the Design Studio's diverse functionality, from product selection to artwork editing capabilities. This visual conveys the aesthetics of the Customizo site design as well, with a sleek, clean, compact delivery. The goal is to to elevate understanding of the Design Studio software by implementing video as a facile instructional tool.
The tutorial gives a glimpse into the design possibilities the software provides while not overwhelming the viewer with too many intricacies. Focusing on customization-relevant topics such as product choice, template selection and editing, creating unique artwork using the Design Studio software, and saving designs for later, the tutorial packs in the perfect amount of information to introduce the viewer to what Customizo.com has to offer. In short, it equips site visitors with a comprehensive overview in easily digestible form.
The Design Studio tutorial also touches on the different design share functions. Users have two options: to share a snapshot of their design, which distributes an image only, or to let friends buy their design, which provides a unique link to the customized product which can then be moved directly to the recipient's shopping cart. Illustrating share with animation allows greater accessibility to this function, which could be overlooked at checkout if its utility were not perceived as immediately obvious.
About Customizo and Izo Brands: With Customizo, Groupizo and Snapizo, Izo is knitting the framework for the future of e-commerce with a multi-faceted set of innovative product customization and design tools, a unique group collaboration interface, and mobile media distribution applications. Izo's mission is to be the most customer-centric, creative, and innovative company in the custom apparel and promotional products industries.