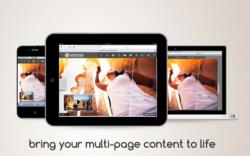 It's good to see that most popular apps will be available at launch - something that BlackBerry has struggled with in the past.
Toronto, Canada (PRWEB) January 31, 2013
Uberflip, the leading page turn software for PDF content, announced today that its platform and technology will be fully compatible with the new Z10 and Q10 BlackBerry devices. In addition, they are impressed with the quality of the web browser in new BlackBerry devices, and are confident that content delivered through Uberflip's HTML5 technology will look and function better than ever on new BB10 devices.
"We are thrilled that BlackBerry significantly enhanced their browser capabilities in their new BB10 operating system," says Uberflip CEO Yoav Schwartz. "We can't wait to see just how great our users' content looks on these new devices."
Uberflip is a software-as-a-service that takes any ordinary PDF file and converts it into a mobile-friendly flipbook experience. It also allows users to enhance it with video, social media embeds, and other interactive elements otherwise missing from typical PDF documents that companies produce. Uberflip then allows users to track the performance and audience engagement of that same content.
"RIM, or should I say BlackBerry now with their official name change, are actually customers of Uberflip," adds Schwartz. "Being a fellow Canadian-based tech company, we cheer for BlackBerry and hope that this is a turning point for them on their way back to being a significant
global player in the mobile industry."
To celebrate the announcement from BlackBerry, Uberflip put out a blog post outlining the prominent new features in BB10.
Uberflip also put together a new infographic that outlines which of the most popular apps will and will not be in the new BlackBerry World store when the new BB10 devices come out.
"I am personally a big Instagram fan so hopefully they'll have a BlackBerry app for that in the near future," says Schwartz. "Aside from that, it's good to see that most popular apps will be available at launch - something that BlackBerry has struggled with in the past."
To learn more about Uberflip and their take on the BlackBerry 10 announcement, check out their blog at http://www.uberflip.com/blog.
About Uberflip:
Uberflip makes it easy to enhance, share, and track PDF content on tablets and other devices. Within minutes, documents are converted into page turn experiences where leveraging links, video and social media integration is just the beginning. Uberflip's page flipping solution helps companies save costs and make money through new marketing channels. To see Uberflip first-hand, view their monthly newsletter Going Digital.