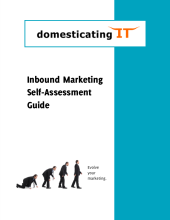 Learn how to grade inbound marketing efforts.
Manchester, NH (PRWEB) January 31, 2013
Domesticating IT is now making its 20-page self-assessment available to business owners and web marketers who are interested in grading their inbound marketing efforts. The eBook guides readers through the process of rating themselves against 26 separate criteria that comprise an effective inbound marketing strategy.
Inbound marketing differs from traditional outbound marketing by pulling people into a web site and converting them into customers, rather than trying to interrupt people with advertising messages and hoping they take action. Implementing inbound marketing is a five-step approach: 1) create remarkable content, 2) optimize it for search, 3) promote it through social media, and 4) convert visitors into leads and 5) analyze the results.
The guide helps answer questions such as:
How does content affect the effectiveness of online marketing efforts? What are the factors that affect a website's position in search engine results? Are certain social media marketing tactics as effective as they should be? Why are landing pages so important and what are the essential pieces? How can web analytics be used to measure and improve?
Jon DiPietro, Principal of Domesticating IT, says: "The final score isn't as important as the journey, which should help readers formulate a strategy for improving their online visibility and maximizing conversion rates. It allows readers to work at their own pace and identify low hanging fruit that can sometimes make an immediate impact on their online marketing results."
About the Company: Domesticating IT is an inbound marketing consultancy offering a range of services that will increase qualified visits to websites and convert more leads into customers. These services include CMS-based website design, blog integration, search engine optimization (SEO), social media marketing strategy, lead capturing and nurturing systems and web analytics. Jon DiPietro is a certified inbound marketing professional and author of the book "Social Media for Engineers and Scientists."