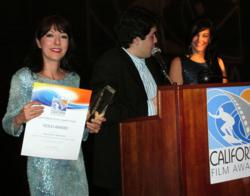 Some people openly question why older actresses do not quit the industry before they start looking old, like this is an acceptable statement to make; its bigotry is apparent yet is tolerated and, often, even supported.
Los Angeles, CA (PRWEB) January 31, 2013
The award-winning short 'Soledad y Melodia', shot in Spanish with English subtitles, showcases the story of Soledad, played with a nuanced performance by Ivone Reyes, a widow who lost her youthful handsome husband. The film recounts Soledad's reactions to the shocking fact that her beloved young husband has returned to her in a much older body. Soledad is at first perplexed by this occurrence, largely due to the fact that he has come back from the dead to her, which is already unsettling in itself, and in a much older body to create an additional sense of complexity.
Luciana portrays Renata, the sole supporting character who, as the caring confidant of the protagonist, is very concerned about the physical and psychological symptoms that Soledad has come to experience. Renata unconditionally supports her as a partner operating the hair salon in which the story takes place.
This is the second win for actor and screenwriter Luciana Lagana within the 2012 film festival circuit. She also received the Hollywood Reel Independent Film Festival award as lead and co-producer of the Best Experiment Short 'Klepto Wife and Woofy.'
The 2012 California Film Awards received several hundred submissions from all over the world; its hard-working organizers sent the submissions to established directors, producers, and screenwriters who judged them and selected the best applicants. Many winners came from all over the world, including China, Japan, and the Netherlands. "I was particularly impressed by the acceptance speech of the mature woman who won the Best Actress award," Luciana commented. "She had returned to acting after a 30-year hiatus, and stated that performing at a mature age was intriguingly different than when she was acting at a much younger age. She found the experience of portraying herself/an older woman to be extremely liberating, offering her a freedom that she never felt before."
Luciana teaches psychology, sexuality, and gerontology in Los Angeles and conducts federally-funded research on the many physical, psychological, and social health challenges of older women from a variety of backgrounds. The words of the recipient of the Best Actress award at the festival resonated with her. "I am seeing a pattern here: I booked the only supporting role with Everth, and also booked a role as the only supporting and older character in the Italian short 'Fino All'Ultimo Minuto.' Other than in the short film 'Klepto Wife & Woofy,' which I co-produced, I am being asked to portray supporting characters for the vast majority of the roles that I am booking. I love acting and enjoy playing all kinds of roles, but I noticed that there just aren't many casting calls for more mature lead actresses," she said. "With a few exceptions, lead roles for women who are no longer young seem to be rare. We see famous actresses over the age of 50 usually play older family members or older co-workers, but the focus of the movie or TV show is usually on younger characters. I have heard the sentence 'My two leads are in their early 30s' from directors many times since 2006, after obtaining my tenure as a Psychology professor, when I decided that it was finally time for me to resume acting. More lead roles for older actresses should be made available, as the population is aging rapidly, but this is not accurately reflected in the types of roles that are typically cast in Hollywood," she pointed out.
Luciana praised the effort of Everth Sotelo, a young writer/director/producer, to promote love that transcends the age barrier. "In the movie, Soledad eventually learns to accept that her loved one is so much older now and is unrecognizable, yet her feelings for him are still strong," Everth said. "Looks matter, but they do not always have to be the main focus in film and TV," Luciana added. "For older actresses in particular, maybe time has come to start feeling empowered about acting no matter what the aging process has done to their external looks. However, given that this is a highly visual medium, overcoming the need to look at beautiful faces and bodies is easier said than done."
A question comes to mind: Would 'Soledad y Melodia' have won if the loved one coming back to life with a much older appearance would have been the wife, not the husband? Luciana doubts it. "We are not seeing much acceptance anywhere for older woman-younger man intimate relationships. This is a taboo that is certainly not speaking in favor of our society being mature," she stated. "I have noticed that once actresses reach a certain age, maybe 50 or even younger, many people start making statements that are negative about them, as youth in actresses is highly idolized and, unfortunately, the opposite is often the case for older actresses," she added.
What happens when older actresses dare remain in the entertainment industry, especially if they are not careful to maintain their looks using whatever means possible? Luciana believes that, usually, they are not treated fairly. "Often, older actresses are not respected and even ridiculed. It has been reported in the media that, once the public finds out the real age of some actresses who play younger characters in an attempt to pay their bills, this can stop them from getting booked and thus being able to make a living. Some people openly question why older actresses do not quit the industry before they start looking old, like this is an acceptable statement to make; its bigotry is apparent yet is tolerated and, often, even supported," she commented.
Luciana clarified that this is not a matter of dismissing the value and importance of young people. "I have hundreds of young students every semester and love the younger generations; we can learn from them and they can learn from us, and I see that this is indeed the case in the classroom. However, with the baby boomers reaching older status at a rapid pace, it would be great to start overcoming the ageism as well as the sexism associated with wanting to portray only younger individuals, especially younger women, on TV and the big screen. I see that we are starting to make some progress in this direction already, but this is happening at a slow pace. It would be nice if societal acceptance of people of all ages were to be reflected in the roles that are portrayed in the entertainment industry," she said.
Everth was asked to explain why he chose the topic of accepting old age for his movie. "I wanted to explore the dynamics of what happens when someone learns to accept to love a person in spite of his/her looks and age. Soledad at first is turned off by the older look of her man, but then she manages to let love overcome her initial negative reaction. I agree with Luciana that older women should be afforded a larger degree of representation in film and TV. In fact, this will be a main issue in my next film. I will attempt to shock audiences with my plot so I want to leave the specific topic a mystery, but you will hear about it once the project is completed later on this year and goes to festivals. I would like to see more writers and directors accept the fact that the aging of the general population is a reality," he commented. "We are all aging and will become old one day (unless we do not make it), so why not acknowledge the aging process and the fading of youthful looks instead of avoiding the topic or making fun of it?"
Accepting old age is not an easy task; why? Luciana offered her point of view. "It is encouraging to see very young filmmakers like Everth make an effort to portray society in its variety of ages. Many people are anxious about even acknowledging the existence of older adults, who often report that, when they are out in public, they feel invisible to many others, especially to younger people," she said. "Aging looks often remind people of the inevitability of their own aging and of the aging and eventual loss of their loved ones. These reactions are certainly understandable, but maturity also means accepting reality and respecting the fact that people of all ages should have equal rights to being represented in the media. The same is true for individuals from minority backgrounds of any kind and for those who look different for any reason," she concluded.
By Marcia Bell, publicist