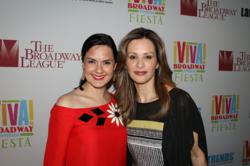 LATINOS CELEBRATE BROADWAY
New York, NY (PRWEB) January 31, 2013
The Broadway League and Latin Trends hosted the first official VIVA Broadway community event, VIVA Broadway Fiesta, a pre-theatre party on January 29th from 5:00pm to 7:00pm, and then continued until 10:00pm at the legendary Copacabana on West 47th Street in Times Square.
The event was attended by local press, talent and community influencers. They enjoyed music, dancing and networking. Cocktails provided by Chivas Regal. Complementry food sampling provided by Margon restaurant. This free event was attended by selected LatinTRENDS invites and theatregoers who purchased tickets to Broadway Week, which began January 22nd and ends February 7th.
Telemundo 47's Odalys Molina, host of Acceso Total and Buenos Días Nueva York, attended and covered this milestone event for the Hispanic community.
La Mega 97.9's DJ Aneudy amazed all with his live spinning of a signature mix of salsa and merengue.
Viva Broadway Fiesta was presented by The Broadway League and LatinTRENDS.
It was officially sponsored by Chivas Regal. Official media partners were Telemundo Nueva York and La Mega. Additional support was provided by NYC & Company.
LatinTRENDS is a multi-platform media company that connects with the aspirational Spanish-dominant and acculturated Hispanic markets. LatinTRENDS produces cutting edge content to inform, entertain and inspire the forward-thinking. http://www.latintrends.com
The Broadway League created Viva Broadway, a new audience development partnership with the Hispanic community, to help bridge the world of Broadway with Latino audiences around the country. The long-term initiative aims to increase awareness about Broadway while culturally enriching lives, bringing families together, and building new careers in the theatre. A National Advisory Board of industry and cultural notables has been formed to help strategize and spread the word about all that Broadway has to offer this growing and vibrant community.
Chivas Regal is a truly global brand, selling 4.9 million 9L cases annually in more than 150 countries across Europe, Asia Pacific and the Americas. The Chivas Regal range is the epitome of style, substance and exclusivity and includes Chivas Regal 12, 18 and 25 Year Old.
Fiesta was held at the legendary Copacabana located at 268 West 47th Street, NY, NY 10036.
Press Contacts: Maria V. Luna 212-851-6164 mluna(at)latintrends(dot)com
LatinTRENDS, 60 West 39th Street, Suite 2W, New York, NY 10018
212-851-6164
mluna(at)latintrends(dot)com
http://www.latintrends.com