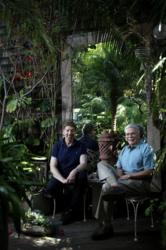 A garden is always a work in progress. It is always in flux, and is never finished
San Francisco, CA (PRWEB) January 31, 2013
On the street outside a larger-than-life ceramic Buddha welcomes visitors to the lush tropical space that waits inside; creating a welcoming entry to the Eden-like world where Richard Gervais and Bay Area landscape architect Chris Jacobson both live and work. The urban oasis was recently featured in the San Francisco Chronicle's Home & Garden section, noted for its remarkable ability to remain massively luxuriant in the heart of one of the city's busiest neighborhoods.
The garden is a work in progress originally created by Richard Gervais and his friend John Pierce years ago situated in the bustling south of Market street (SOMA) neighborhood. Chris says that since he moved to the property five years ago, his presence has simply added another layer to the life of this exotic locale.
"A garden is always a work in progress. It is always in flux, and is never finished," says Jacobson.
Bay Area landscaping management specialist Chris Jacobson of GardenArt Group went on to comment that the combination of exotic art and hidden gardens have all the ingredients of a classic film noir movie. Next to his compact, colorful studio, filled with relics from his world travels, is the gallery of art collector Richard Gervais, the creator of The Richard Gervais Collection, a wholesale collection of all things exotic and beautiful which have been collected over many years.
Although Chris Jacobson says that the SOMA garden where he lives is appropriate for a small city space in a mild climate like San Francisco's, he provides both Bay Area landscape design and landscape management services to many gardens in the south peninsula, where hot summers and colder winters create more demanding gardening conditions. There are environmental considerations that need to be taken into account when dealing with larger gardens in harsher climates.
Paramount among those considerations is water: its use and misuse. Jacobson has specialized for the last 30 years in the creation of unusual, environmentally friendly gardens, and is on the advisory board of the northern California branch of the International Mediterranean Garden Society. He has been counted among the top tier of Bay Area landscape designers for years, and has done a wide range of notable projects, including the Sunset Publication Headquarters 50 year Anniversary design remodel, the San Francisco Decorator Showcase, and a memorable Palo Alto "Idea House", also for Sunset.
Chris Jacobson has had his work featured in the San Francisco Decorator Showcase because the owner of the house consulted a Feng Shui specialist, and Chris' proposal was the most in line with the principles of the Chinese art of placement.
He believes the point of creating a sacred space is to bring the viewer to a moment of calm reflection, a quiet opportunity to leave the worldly rush and noise and go within. His gardens have been featured in many local and national publications over the years, including Peg Streeps' book "Spiritual Gardening".
Jacobson's work reflects a knowledge of gardening in California, which includes a concern for water. Chris says that people forget that western summers are usually bone dry, and the water used for California gardens has to be piped, pumped, saved, measured, and appreciated.
"The highest expression of the art of garden-making in the arid west is the creation of water saving gardens that retain the basic components of a sanctuary space: gardens that encourage peaceful contemplative thoughts." says Jacobson "The historic gardens of Moorish Spain, such as the Alhambra and the Alcazar, are models that can be followed here in California."
His philosophy of landscape design and management is found in his residential garden guide "A Different Shade of Green: A Manual for the New California Garden", which he says will soon be back in print.
For more information about Chris Jacobson's popular Bay Area landscape planning, and Bay Area landscaping installation visit http://www.gardenartgroup.com or call (415)-722-0615
About Chris Jacobson and the GardenArt Group
Chris Jacobson began creating landscape designs in the 1970s while pursuing a career in the fine arts. He eventually fused the two pursuits into one concept; GardenArt. A fourth-generation California horticulturist, Chris has been one of the proponents of the New California Garden, an emerging movement that combines environmentalism, multi-culturalism and art.
Jacobson is a member of the northern California chapter of the International Mediterranean Garden Society advisory board. The Society provides a means for gardeners of these unique climates to exchange information concerning their specific gardening needs, the most pressing being water conservation.
Jacobson's work has been featured in Sunset, Country Homes and Gardens, Architectural Digest, Northern California Home and Garden and Peg Streep's gardener's guidebook "Spiritual Gardening". He has also penned his own horticulture care and design handbook, A Different Shade of Green: Manual for The New California Garden.