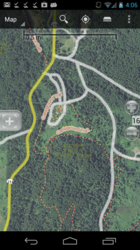 Android tablets and phones with GPS give users flexibility with maps and software.
Camas, WA (PRWEB) January 31, 2013
Crittermap Software said today that their Android GPS, BackCountry Navigator, now has expanded offerings of offline topo maps to use in outdoor recreation.
New for 2012 is a single layer, higher resolution AccuTerra topo map from NeoTreks, Inc. In addition to this map, users can use the streets, trails, and labels from this map as an overlay on top of other maps, such as aerial imagery.
Also recently added is a map like the newer US Topo maps from the USGS. These maps differ from previous generations of topo maps in that they combine aerial imagery with contour lines and roads and labels.
The paid Android GPS App, BackCountry Navigator PRO, is currently ranked near the top of paid apps in the Travel and Local category of the Google Play Store. It is approaching 70,000 regular users including snowshoers, hunters, and other adventurous users.
BackCountry Navigator allows one to preload topo maps, aerial photographs, or even marine charts for use offline in the forest and wilderness areas where there is no network connection. BackCountry Navigator can replace handheld GPS devices with Android smartphones and tablets, giving users flexibility with maps and software.
Spencer, an outdoor enthusiasts, writes of BackCountry Navigator, "this phone app has better reception, maps, and accessories than anything I've used. I'm a backcountry photographer, painter, backpacker, pristine wilderness enthusiast, and born explorer."
BackCountry Navigator PRO is available for $9.99 from the Google Play Store for Android-compatible phones and tablets.
About CritterMap Software
CritterMap Software is based in Camas, Washington and aims to make software and content for enjoyment and safety of outdoor recreations. CritterMap Software is founded by an outdoor enthusiast with experience in both software development and land navigation.