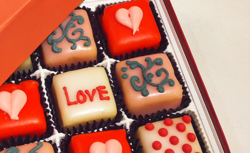 We're excited to be featured with Dean & DeLuca and provide our festive treats that are not just for sweethearts
New York, NY (PRWEB) January 31, 2013
Three Tarts, the artisanal New York dessert experts and a "…top ten dessert destination in New York…" according to TimeOut New York Magazine, have announced their house-made Valentine's Day lineup as well as a retail arrangement with Dean & DeLuca.
This year some of the limited seasonal artisanal treat for Valentine's Day include chocolate rosewater marshmallows, custom designed petits fours – hand decorated layers of almond cake and tart apricot jam with Valentine's Day designs, valrhona chocolate and cardamom lovelies cookies, marshmallow heart pops, and organic long stemmed chocolate covered strawberries hand dipped by dessert district neighbors Chocolate in Chelsea.
In conjunction with Valentine's Day, Three Tarts announces a retail partnership with Dean & DeLuca for their Valentine's treats including their Valentine's Day petits fours, a trio of their marshmallows, and their indoor s'mores kit.
"We're excited to be featured with Dean & DeLuca and provide our festive treats that are not just for sweethearts," said Primary Tart and Owner of Three Tarts Marla D'Urso.
Three Tarts Valentine's Day product is also the subject of a story on Just Desserts NYC. Beth Nicely and Amanda Larsen visited Three Tarts to kick off their 14 Days of Valentine's tour of desserts in New York.
Three Tarts Bakery & Boutique flagship store is located in the Chelsea section of New York City at 164 Ninth Avenue and can be reached at (212) 462-4392. Their second location, Three Tarts at The Plaza Food Hall, is located at New York's The Plaza Hotel. Three Tarts is also online at Facebook.com/ThreeTarts, and @ThreeTartsNYC on Twitter.