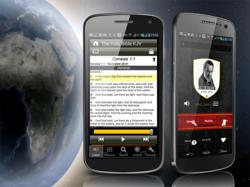 Scourby Audio Bible App, the Newest Way to Access the Oldest Book
Los Angeles, CA (PRWEB) January 31, 2013
A unique combination of voice and text ensures better understanding, comprehension and memorization. Some of the features of the app include full search engine of book, chapter, verse and words, bookmarking, history page and creation of playlists among others.
January 2012: Scourby.com today announced the launch of Scourby Bible Apps, which provides access to Bible in the voice of Alexander Scourby, a renowned audio book narrator, on devices based on platforms including android and iOS among others. Text and audio is presented together and users can study Bible while listening to the audio. The addition of audio enhances understanding, vocabulary and comprehension to name a few. The Bible app makes an ideal tool for Bible study and perfect for Multitasking.
The text read in the Bible passages is highlighted in yellow and helps you to focus on what's being read. Other features include full search engine, Bible verses creation of playlists and electronic bookmarking. The tool eases the scripture verse and allows access to Bible irrespective of the time and place where one is present. The Bible app also allows the users to create sleep time playlists of 30, 60 and 90 minute duration and play it at bed time.
In addition, it continues to play even when the user moves to a different application. The history page and electronic bookmarking features are provided to keep a track of the users progress. There is also a feedback button for the users to send an email to the developers for suggestions and comments.
The Bible app is available for android based phones, tablets and iOS systems. There is also a Bible Mp3 download for mp3 players and ipods.
About Alexander Scourby
Chicago Tribune wrote that Alexander Scourby "has the Greatest Voice Ever Recorded". Known as the 'Voice of the Bible,' Alexander Scourby is one of the most heard and renowned book narrators in the world. He recorded over 500 books during his entire life with the King James Bible becoming the best seller and his most treasured narration. His gifted voice has bought joy, comfort and inspiration to millions present across the globe.
Take an Audio Bible app tour at scourby.com and listen to Alexander Scourby read some selected Bible passages and see if you agree with the Chicago Tribune.