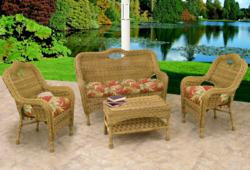 Real people who respond to your emails and telephone calls promptly; go out of their way to please you, including working out the best shipping costs. Something not found from a lot of online companies.
Pemberton, NJ (PRWEB) January 30, 2013
Annie's Wicker Furniture and Accessories announced today that their new website has just gone live. With the increase of smart phone and tablet usage, more websites are updating their websites to make the mobile experience more pleasant. Most mobile web users have grown accustomed to shopping for clothing, music and gifts on their smart phones. Now, mobile and tablet users can shop for wicker and patio furniture online as easily as laptop and PC users.
By using bootstrap framework the new website is responsive to the device which is viewing it. The website framework detects the user's device and browser and formats the website to accommodate the device and browser. On the web browser version of the site drop-down menus are easy to use. The layout of the new website also uses wicker furniture categories with thumbnails so mobile users can browse the wicker products more easily. These options are available on laptops and PC's as well. New features on the new website include an improved product search, newsletter subscription, and social media links to all of Annie's Wicker's social media pages.
The design isn't the only thing new about the website. Annie's Wicker is also adding new wicker furniture and accessories to the online store. Shoppers, this season, will have more choices from leading wicker manufacturers, like North Cape International and Chasco Designs, than previously before. All of the wicker furniture is high quality and the cushions are manufactured in the United States and can be custom made to fit any piece of furniture that needs cushions.
Whether shopping with a mobile device or a desktop computer, shoppers will find Annie's Wicker easy to navigate, and purchasing wicker furniture is just as simple sitting at home or while on the go.
About Annie's Wicker, LLC:
Annie's Wicker Furniture and Accessories is an online discount wicker furniture dealer specializing in outdoor wicker all weather resin furniture and indoor natural wicker furniture.
For more information about Annie's Wicker, or to start shopping with on the new website, visit Annie's Wicker Furniture and Accessories.