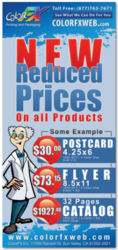 "We have worked diligently over 18 years to make 'satisfaction guaranteed' a reality instead of just a slogan," said a Color FX representative
(PRWEB) January 31, 2013
Color FX, the premier wholesale commercial printing company, announced the launch of several discounts to its quality printing products. These new discounts include up to 70% off such products as booklet printing, catalog printing, flyer printing, and much more with an additional 8% off any single order over $500. Color FX offers these discounts following a recent investment in state-of-the-art post-press and finish equipment.
"We have worked diligently over 18 years to make 'satisfaction guaranteed' a reality instead of just a slogan," said a Color FX representative. "After we invested in new equipment to produce the best possible finished product, we wanted to reward our customers with big reduced prices. We hope people will take advantages of these discounts and experience "satisfaction guaranteed.""
Known for their professional quality, Color FX supplies customers with top-branded projects, ad agency materials, and a whole host of other professional printing products. Color FX has provided these professional products for over 18 years to over 52,000 brokers, resellers, and ad agencies. Their selection includes brochure printing, calendar printing, letterhead printing, postcard printing, banner printing, customized printing, and much more. Color FX offers a large variety of colors, sizes, and finishing options for each of these products and each order has customizable quantities to ensure that customers receive what they need rather than paying for superfluous extras.
About Color FX
Color FX, the premier wholesale commercial printing company, is a family-owned and operated business in Sun Valley, CA. Serving customers for over 18 years, Color FX's employees have dedicated themselves to becoming true craftsmen in the tradecraft of printing. This dedication has produced award-winning results with an AAA+ accreditation with the internationally respected Better Business Bureau. For more information, please visit their website http://www.colorfxweb.com/, call toll free at 877.763.7671, visit their Southern California office, or join them on Facebook, Twitter, or Google+.