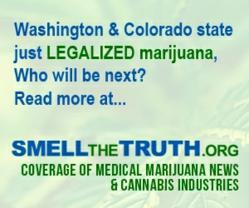 2012 was cannabis's biggest year ever and with that naturally came tons of great literature covering every angle of marijuana in the United States
Los Angeles, CA (PRWEB) January 31, 2013
San Francisco medical marijuana news source Smell the Truth recently named their picks for the best non-fiction literary works related to the marijuana industry in an article titled "Best Buds of 2012". The list covers books with topics ranging from cookbooks using marijuana, the history of cannabis in America, a tell-all from a music legend, the many health benefits of using the wonder plant and of course cannabis plant porn.
"2012 was cannabis's biggest year ever and with that naturally came tons of great literature covering every angle of marijuana in the United States," said David Downs. "Every piece of literature we selected added something special to the ongoing conversation on the topic, some serious, some not at all."
The list, in no particular order is as follows
1. "Marijuana Legalization: What Everyone Needs to Know" -as told by "the best policy analysts of our time" as quoted from Smell the Truth. This is a guide for everyone to be armed with the facts about what to expect in these changing times.
2. "Roll Me Up and Smoke Me When I Die: Musings from the Road" by legend Willie Nelson is "A tour diary from outlaw country music legend Willie Nelson is heavy on jokes, tokes, and wisdom. With a foreword by Kinky Friedman".
3. "The Official HighTimes Cannabis Cookbook" covers a range of munchie pleasing, sugary confections to more healthy options. Either way, the recipes were given the stamp of approval from High Times editors. Enough said!
4. "Home Grown: Marijuana and the Origins of Mexico's War on Drugs" by historian Isaac Campos documents the often overlooked Mexican history of marijuana, dating back to the Spanish Inquisition.
5. "Legalized It!" by David Bienenstock is a compilation of his best writing for High Times surrounding exactly how Colorado and Washington made the seemingly impossible possible in 2012.
6. "Marijuana, Gateway to Health: How Cannabis Protects Us from Cancer and Alzheimer's Disease" by Clint Werner is a summary of his research on the well documented medical clout marijuana holds.
7. "Cannabis Indica Volume 2: The Essential Guide to the World's Finest Cannabis Strains" edited by S.T. Oner and with an introduction by Mel Thomas, Indica Volume 2 is the ultimate guide to the most exquisite strains of ganga the world has to offer. Along with that vital information are stunning photos of what can best be described as pot pinup models. Indica Volume 2 is published by San Francisco's own Green Candy Press.
8. "Cannabis Sativa Volume 2: The Essential Guide to the World's Finest Marijuana Strains" also edited by S.T. Oner and introduced by Mel Thomas, this is a manual for the stronger, more otherworldly species of pot.
9. "Heart of Dankness: Underground Botanists, Outlaw Farmers, and the Race for the Cannabis Cup" chronicles the true story adventures of Los Angeles professor Mark Haskell Smith as he discovers the many elements of growing and celebrating marijuana in America.
10. "Pot Inc.: Inside Medical Marijuana, America's Most Outlaw Industry" Colorado author Greg Campbell researches what the United States has to gain from legalizing medical marijuana and ending the war on drugs.
11. "Too High to Fail: Cannabis and the New Green Economic Revolution" by Doug Fine, an investigative comedic journalist who spent a year in Mendicino County on a crusade for marijuana legalization.
12. "Smoke Signals" by California historian Martin A. Lee who tells the stories of the first power players in the marijuana industry in the Golden State.
These are all highly regarded pieces of literature that promise to educate and entertain. Click here for the SF Gate article and for Smell the Truths helpful commentary.
For more information about Smell the Truth or TruMedia, or visit http://blog.sfgate.com/smellthetruth/
About Smell the Truth:
San Francisco Cannabis Information hub Smell the Truth, syndicated for distribution by TruMedia, is a news source committed to exposing the truth within the fast-growing cannabis media space. TruMedia is a leading content provider, aggregator and marketing channel focusing on the "new-age pop culture" demographic, providing advertisers, entrepreneurs, grassroots organizers and innovators access to a targeted network of cannabis users and advocates. TruMedia is based in San Francisco and Los Angeles, but also has offices in Colorado and Washington state.