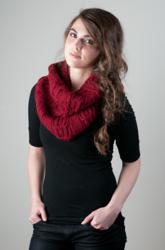 Our luxurious alpaca scarves, gloves and hats in purple, red and creme will keep your loved ones warm this Valentine's Day.
Chicago, IL (PRWEB) January 31, 2013
Mayu, a social enterprise based in Chicago, has a wonderful selection of one-of-a-kind alpaca scarves, hats, fingerless gloves and throws to meet consumers' gift giving needs this Valentine's Day. The luxurious, hand-knit products are perfect for those loved ones that seem to have it all. Not only are these items classic, forever pieces for any winter wardrobe, but they have a great story behind them.
Kate Robertson, founder of Mayu, explains the challenges she faces to procure Mayu's products from a small Andean community in rural Peru. "The artisans with whom we work (and who I met while in the Peace Corps in Peru), have a lot of patience. They order raw materials from Lima, which are sent by bus to their community and then they have to take an 8-hour bus ride back to Lima to ship the finished scarves to Chicago. You never know what can happen with unreliable transportation and post. I get very happy when I receive a complete package from Peru."
For those looking to find the perfect, one-of-a-kind Valentine's Day gift this winter, Mayu's hand-knit accessories are a great option. Prices range from $70-280 for scarves that will last a lifetime and receive many compliments along the way! Mayu has a selection of hats, scarves, gloves and throw available in Valentine's colors -- creme, red and purple. For those looking for a steal, Mayu has a variety of alpaca scarves on sale, for up to 50% off. First time customers can also receive 10% off orders.
About Mayu:
Mayu is hand-knit, pure Peruvian alpaca goodness -one hundred percent. Mayu is also a member of the Fair Trade Federation and was founded as a result of the founder's experience in the Peace Corps in Peru.
100% pure alpaca. 100% hand-knit. 100% peruvian. 100% good.