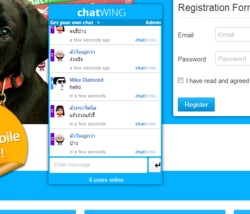 San Francisco, CA (PRWEB) January 31, 2013
According to many professionals, branding is one of the integral processes of creating online presence today. A strategic branding process can boost the popularity of any company or website, thus granting a specific edge in competition. Chatwing.com realized this fact and offered clear support to branding processes. This is possible through the launch of its recent chat software. The chat tool is capable of improved connectivity and social network expansion to a high degree.
The chat box also has strong customization leverage. After registering, a user can start modifying the chatroom in his account dashboard. Here, the user can set the colors, sizes, and other important aspects of the tool. Background images can be selected, and this option is the direct advantage to a branding campaign. The chatroom admin can upload background images related to his niche, product, or service.
Chatwing Company has started its strategic advance in the blogosphere, barely two years ago. This advancement created opportunities for thousands of bloggers and website owners. Months rolled and the chatroom was proven useful in the fields of website marketing, social media marketing, and impressions.
The company will continue improving the chat app to ensure that more website marketers can gain advantages in terms of branding. Moreover, the company is also planning to reach out to more users in order to spread awareness about the sheer importance of online chat.
About Chatwing.com
Chatwing.com specializes in the new field of website chat. Over years, the development team has introduced live chat widget for hundreds and thousands of blogs. The application bridges people from many parts of the world, creating global synergy through the Internet. The shout box can be installed in just seconds, and it can be used for varying purposes such as leisure and Internet marketing. It also allows a user to customize the size, color, and name of the widget.