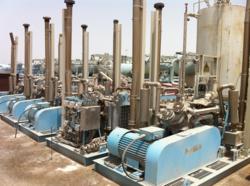 Houston, TX (PRWEB) January 31, 2013
Tru-Markets, an Investment Recovery Company and Online Marketplace for Surplus Energy Equipment, announced today the expansion of its independent sales agent program to increase adoption of Tru-Markets online auctions, sealed bids, featured equipment sales, and investment recovery services worldwide.
The Tru-Market's Sales Agent Program enables independent sales agents to introduce and sell a full suite of investment recovery and marketing services for surplus energy equipment. Tru-Markets' surplus recovery solutions focus on the capital asset divestment needs of energy companies of all sizes, from independent drilling contractors to major oil & gas corporations. Independent sales agents are supported by the Tru-Market's team to collaborate with agents as they prospect, engage, and win business with the benefits of residual commissions. Tru-Market's Sales Agent Program pays commissions for sales, lead generation, and introductions.
"We are currently seeking enterprising professionals to join the Tru-Markets team as independent sales agents," explains Mike Besecker, Managing Partner at Tru-Markets. "If you have a background in oil & gas, sales, or the energy equipment markets, the Tru-Markets Partner Network is a great way for you to earn extra money, expand your current offerings, or build a career in the energy industry."
With Tru-Markets' Partner training program, equipment expertise, global buying network, and services backed by a Customer Bill of Rights at their disposal, sales agents can partner with Tru-Markets to sell into the $100 billion dollar surplus capital asset equipment industry. Those interested in becoming an independent sales agent for Tru-Markets can visit http://www.tru-markets.com/agent for more information and learn more about how to apply and qualify for the independent sales agent program. Tru-Markets works directly with energy companies to sell a wide range of new and used capital equipment including pipe, production equipment, generators, pumps, drilling equipment, and other items.
About Tru-Markets
Tru-Markets is an Investment Recovery Company and Online Marketplace for Energy Equipment. Tru-Markets services are backed by an industry exclusive Tru-Guarantee as well as a Customer Bill of Rights. The company focuses on the capital asset divestment needs of Energy companies and provides solutions and flexible sales channels to market and sell surplus energy equipment.
To schedule an interview with Michael Besecker, please contact Tru-Markets at (855) 879-8786. For general information, please visit http://www.tru-markets.com