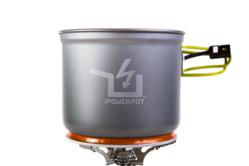 The Power Pot was one of the coolest innovations I encountered at Winter Outdoor Retailer
Salt Lake City, UT (PRWEB) January 31, 2013
It's been a busy week for Utah-based startup Power Practical, with the official launch of the PowerPot at Winter Outdoor Retailer and closing a seed round of funding with Salt Lake City based Kickstart Seed Fund leading the round. "We couldn't ask for a better start to the year, Winter OR exceeded expectations with interest, excitement and most importantly – orders from great outdoor retail shops around the country. OR and closing our seed round of funding the same week gives us great momentum to start the year," said Matt Ford, CEO of Power Practical.
The PowerPot is a portable personal power generator. It looks like a regular camping style cooking pot but with technology on the bottom that converts (a heat source) heat into electricity. Using thermoelectric technology, the PowerPot takes the heat generated from a camping stove, camping fire, wood burning stove, etc. to generate up to 5 watts of power through a standard USB output. Today, most all small electronic devices like smart phones, head lamps and GPS's charge via USB and are fully compatible with the PowerPot.
Michael Plante, President of Travel Country and member of the Grassroots Outdoor Alliance in Altamonte Springs, Florida discovered the PowerPot at Outdoor Retailer and said "The PowerPot was one of the coolest innovations I encountered at Winter Outdoor Retailer - a camping pot that generates power while it boils your water!  I liked this product so much I placed our initial order for PowerPots on the spot."  
ABOUT POWER PRACTICAL 
Power Practical is an alternative-energy startup focused on delivering (personal) power solutions to the consumer market. Its first product, the PowerPot, was successfully crowdfunded on Kickstarter last spring. Since then, the company has shipped over 2,000 units to over 30 countries. Initial reviews of the product have been highly positive, and the unit has made headway in both the outdoor and emergency preparedness vertical markets.