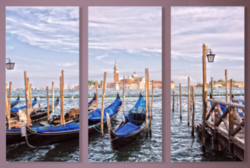 North Miami Beach, FL (PRWEB) January 31, 2013
Paint Your Life today announced the launch of a new split canvas artwork. This new product involves taking a single picture and dividing it among multiple canvas to create a collection of art pieces that come together to form a singular picture. This style of home décor is completely on trend with the latest interior design themes.
Paint Your Life bases their business vision on their ability to bring bold new ideas to the world of photography and art. It is their capacity to adapt and innovate that makes Paint Your Life one of the most unique and fastest growing niche businesses in the country.
The concept behind this latest offering from Paint Your Life is based loosely on works by several of the great artists in history who would use several canvases to create a single image. Each canvas contains one section of the original image and can be mounted together as a single large image or separated to create the contemporary feel of great artists such as Andy Warhol.
With this latest service, customers can upload their image directly to the site, as with all other Paint Your Life products, and view a proof before the final image is printed on canvas. Customers can also choose to have multiple split canvases created from any one of the hundreds of original artworks that Paint Your Life has created. Among this amazing collection is their actors canvas print series including such stars as Al Pacino and Uma Thurman. These photos can be split between three or four canvases to create a mosaic masterpiece. Paint Your life also has a wide range of other artworks to choose from such as paintings from photos or pop art canvases.
This new product will provide Paint Your Life customers with a series of canvas prints that are gallery wrapped for a professional style. These canvas prints will look great on any wall in the customer's home or office. This service can be a fantastic way for businesses to showcase their products or services in lobbies and offices while creating a decorative motif at the same time.
Customers can view samples of multiple split canvas products hanging from display walls at the Paint Your Life store in North Miami Beach, or online. Following on the heels of a record breaking holiday season, Paint Your Life plans to continue offering incredible new services and products throughout the coming year. As the trends change, Paint Your Life is prepared to provide customers with products that are unique and special to adorn their homes and offices. No matter the occasion or space, there is a Paint Your Life canvas that fits the bill. Ordering from Paint Your Life is easy with online ordering capabilities, and production and delivery times are fast so you can enjoy your print sooner. Click to see examples of Paint Your Life canvas splits.
PaintYourLife.com, a world leader in personalized pop art canvas offers a wide array of photo to painting options for their customers to choose from. Take any memory and turn it into an amazing work of art to display in your home with the many different options from Paint Your Life.