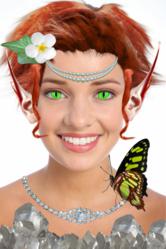 Belfast, ME (PRWEB) January 31, 2013
For those who dream of joining Thorin or Galadriel on their Middle Earth adventures, Cat Game Apps, LLC has just released two new apps worth checking out; Dwarf Me and Elf Me.
Dwarf Me features over 200 items including wigs, mustaches, noses, braids, weapons, runes, goblets and more to add to photos so users can become any number of different dwarves.
Elf Me includes three sets of elfin ears, wigs, jewelry, woodland animals, butterflies and other elements for users to realistically transform themselves to look like Galadriel and the elves of Middle Earth, a Christmas Elf, a woodland elf or anything in between. With over 190 items to choose from, all of these and more are possible with the Elf Me app.
Dwarf Me and Elf Me are both easy to use for beginners but will satisfy advanced users as well. Users choose a photo and then choose items to add to the photo. Item size, position and orientation is changed using fingers. There are tools for adding text bubbles and drawing as well.
When the photo is finished, owners have several options like saving it to their camera roll, emailing it to a friend, sharing it on Facebook or Instagram, posting it as a meme to Pinterest or as an avatar or profile photo. Users can also upload the photo to Shutterfly to make gifts, cards, invitations or a funny calendar.
"These apps are fun for the whole family" says developer Tim Wilson. "The apps are easy to use and the image quality is surprisingly realistic. The whole idea is that you don't have to be a tech wizard to get fantastic results."
The apps are currently available on iTunes and are scheduled for release on Android in February.