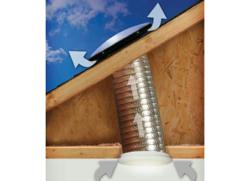 The Spectrum Skylight Tube, due out this spring, has the sleek low-profile, square dome, ventilation option and comes in three different sizes.
Incline Village, NV (PRWEB) January 31, 2013
The U.S. Sunlight Spectrum series of Skylight Tubes offer an industry first for light tunnels – a ventilation option. With simple snap-on, snap-off installation, convert a Spectrum Skylight Tube into a passive ventilator. This simple addition makes the Spectrum series an even better choice for restrooms, kitchens, garages, laundry rooms, and any place where daylighting and ventilation are desired.
Capture clean, natural daylight and tunnel it to just about any location in your home or business with the low-profile, square dome Spectrum Skylight Tube - the first, patented Skylight Tube offering a passive ventilation option. Available in 14", 18", and 21" domes with flexible tubes available from 8 feet to 12 feet – the Spectrum Skylight Tubes are perfect for situations requiring increased lighting in the home and in commercial settings.
Unlike most tubular skylights on the market today, Skylight Tubes are designed with the home's aesthetic appearance in mind. The square dome, low-profile design of the Spectrum Skylight Tube blends in with almost any roof type - giving the flexibility to install it on either the front or backside of the house, without sacrificing the appearance of the home's exterior. Simple installation, hail-resistant dome and engineered for a leak-proof installation – the Spectrum Skylight Tube is the perfect option to add natural light in a home or commercial space.
CEO of U.S. Sunlight Corp, Geoff Foreman, states, "U.S. Sunlight has established itself as a leader in the energy efficient, home improvement industry with the complete line of solar attic fans, all purpose ventilators and the Solar Controller. The Chroma Skylight Tube, released in 2011, began our journey with low-profile Skylight Tubes. We are pleased with the introduction of the Spectrum Skylight Tube line and the benefits it will provide homeowners and business owners alike."
Call U.S. Sunlight at 1-877-50-USSUN for more product details, availability and pricing.