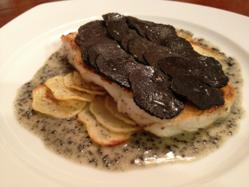 Reno, NV (PRWEB) January 31, 2013
Périgord black truffles(Tuber melanosporum) are generally available from late November through mid March, and reach their pinnacle of fragrance and flavor in January and February, according to Mirepoix USA, a leading online purveyor of specialty gourmet foods and traditional French foods. March produces good quality mature specimens; however, availability is limited towards the end of the season.
Like other truffle varieties, the Périgord truffle grows beneath the surface of the soil among the root systems of specific types of trees and develops a symbiotic relationship with those trees, which primarily consist of oak, but also beech, hazelnut, chestnut, birch and poplar. Within the last 100 years production of the Périgord black truffle has significantly diminished from previous levels, but demand among discerning epicures remains strong.
Mirepoix USA founder, Laurel Pine, recommends serving black truffles in a cooked or heated preparation that because the heating process releases the unique and intense earthy truffle flavor and aroma. Like all truffles, the true flavor of black truffles can be best appreciated with a mild base such as potatoes, eggs, risotto or pasta. Black truffles also pair well meats such as poultry, beef, pork, rabbit and game meats such as venison, boar and elk. Fish and seafood are equally good with black truffles, especially white fish such as cod, sea bass or halibut, or shellfish such as lobster or scallops. Black truffles are also wonderful in sauces made with hearty wine, brandy, cream, or butter.
Mirepoix USA states that consumers should be aware that all truffles, including black truffles from Australia, should be wrapped in an absorbent cloth such as a paper towel and stored in an air-tight container. Black truffles stored in an air-tight container with raw whole eggs for 24 - 48 hours, will flavor the eggs with truffle flavor. Whether stored alone, or with eggs, the towel should be changed daily to avoid moisture collecting or mold developing. For maximum flavor and aroma, black truffles should be used immediately upon receipt, but will last up to ten days stored properly.
Prices for black truffles range from $100 - $200 per ounce, according to Mirepoix USA. Pricing is determined by supply and demand, and prices generally change weekly. A one-ounce truffle is about the size of a golf ball and will serve 1 - 4 people.
Mirepoix USA sources the highest quality specialty gourmet foods and traditional French foods from manufacturers and importers across the United States. The company currently offers over 40 foie gras selections; fresh truffles including summer truffles, Burgundy truffles, Perigord black truffles and Alba white truffles and well as truffle based products; French charcuterie, and a wide selection of caviar. In recent years the online retailer has expanded product offerings to include Wagyu and US Kobe beef, French cheeses, and gourmet gift baskets and gourmet food.
To purchase fresh black truffles from Mirepoix USA, visit http://www.mirepoixusa.com or call 866-992-9559.